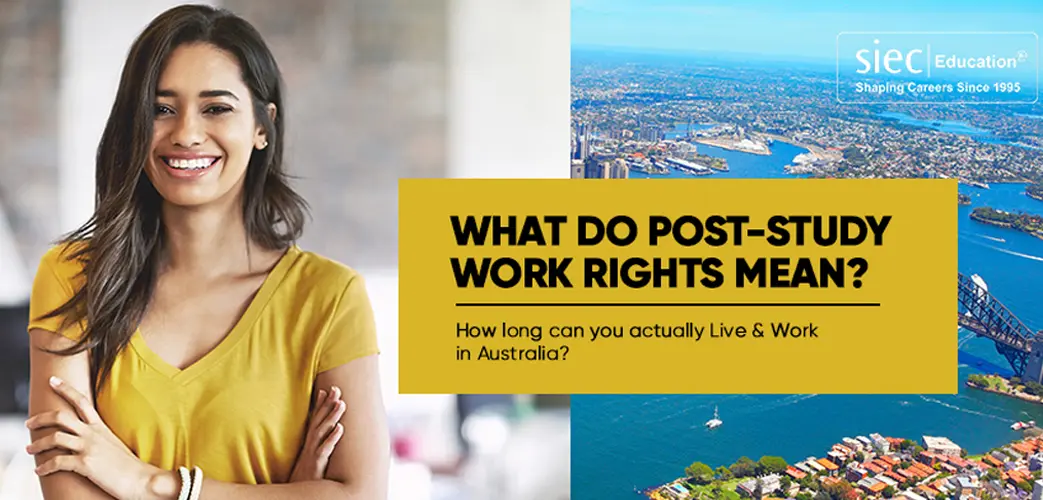 What do Post-Study Work Rights mean?
How long can you actually Live & Work in Australia?
Post-Study Work Rights (PSWR) is a temporary visa facility that allows international students to Live, Study & Work after they've finished their studies. And among all the top study abroad destinations, Australia is one of the best countries when it comes to post-study work rights.
Post-Study Work Rights in Australia
You can stay back for up to 4 YEARS after your studies depending on what kind of qualification you have
Top 6 Cities to Look for a Job in Australia!
Sydney
A hub of Banks, Insurance & Law Firms, IT & Telecom Services; there is a big demand for Developers, Project Managers & Technical Consultants
Other hot areas for jobs are Medical Devices, Pharmaceutical & FMCG
APPLY to-UNSW, UTS, Western Sydney University, Le Cordon Bleu etc.
Adelaide
Healthcare is the top employer here
Other booming sectors are Manufacturing, Mining, Ancillary Services, Professional Services, Housing & Construction
APPLY to- University of Adelaide, Flinders, CQ University, University of South Australia etc.
Melbourne
Australia's capital of Wine, Food & Culture
A Manufacturing Hub with good prospects for IT & Healthcare jobs; great opportunities for Sales & Marketing people across all industries
Designers with Fiber Optic exposure, SAP Professionals, Business Analysts, Data Scientists & Technology Project Heads in huge demand
APPLY to-University of Melbourne, Monash, RMIT, Deakin, La Trobe and Victoria University
Brisbane
Home to about 200 resource firms; Banks, Insurers, Suncorp Metway and Airlines are large employers here
A popular destination for Mining Engineers
High-tech industries like Biotechnology is attracting talents; a GLOBAL HUB for Resource Industry Technologies & Services
The city strives to almost double its economy to AUD 217 Billion by 2031
APPLY to- The University of Queensland, Griffith College, Le Cordon Bleu etc.
Perth
Australia's Energy & Mining capital; homegrown miners are among the biggest employers
Banking, Wealth Management & Financial firms are also big
APPLY to- Curtin University, Murdoch University, The University of Western Australia, Edith Cowan University etc.
Canberra
Known for consulting services to government along with Internet & Communications Technology
APPLY to- University of Canberra, The Australian National University, CIT, Australian National University etc.
Want to know more about PSWR in Australia? Register for our Australia Education Fair and meet with Australian university admission officers to apply on the spot!