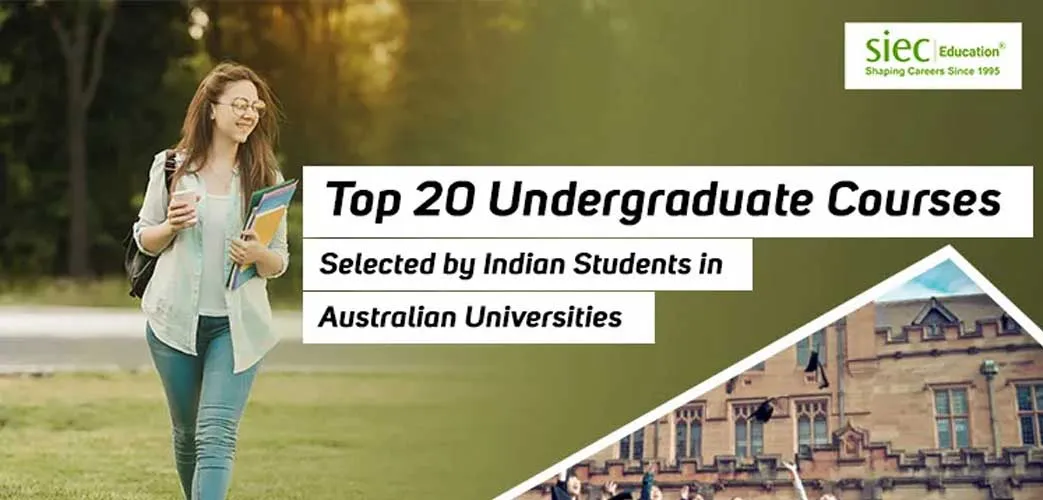 Top 20 Undergraduate Courses in Australian Universities Selected by Indian Students
First of all, hearty congratulations to you on finishing the class 12th! Now, this is the time when you choose a course of study on which you will lay the foundation stone for a successful career. But, while choosing the career path, you may face doubts or you may want to choose what your friends are going to pursue.
Have some patience! You may take a far better decision without giving in to the peer pressure. You can choose Australia for your undergraduate studies. A lot of interesting undergraduate courses are available in the Australian universities. These courses provide ample opportunities to the Indian students who study in Australia in terms of learning and exploring fresh opportunities.
You can choose a UG course from diverse areas of study like Fashion, Communication, Creative Arts, Business Management, Computing & IT, Hospitality & Tourism, Dental Studies, Economics, Accounting, Health Services & Rehabilitation, Psychology, Sciences, Social & Community Services, Sport, Leisure & Recreation, Law, Justice & Security Studies, Mathematics, Languages, Humanities & Social Sciences, Agriculture, Architecture & Building, Liberal Arts and many more.
Education in Australia is truly world-class. Unique methodologies are applied in various universities. These methodologies make the UG in Australia enjoyable and also advantageous in the long run. Let's check out top 20 undergraduate courses in Australia often selected by Indian students.
Top 20 Undergraduate Courses in Australia
Bachelor of Business – Hospitality Management
Bachelor of Business – Advanced Business Leadership
Bachelor of Arts – Politics and Journalism
Associate Degree in Fashion Design
Bachelor of Arts – Acting
Bachelor of Arts – Music Theatre
Bachelor of Engineering (Honors)
Bachelor of Creative Industries
Bachelor of Communications and Media
Bachelor of Behavioral Science – Psychology
Bachelor of Fine Arts – Animation
Bachelor of Business and Commerce
Bachelor of Business – Economics
Bachelor of Science in Information Technology
Bachelor of Computer Science
Bachelor of Data Science
Bachelor of Global Studies
Bachelor of Health Science – Health Promotion, Health Services Management, Therapeutic Recreation, Public Health
Bachelor of Nutrition and Dietetics (Honors)
Bachelor of Business – Sport Management
This is just a small list prepared after taking into account data available with various educational institutions in Australia. There are hundreds of other courses also which Indian students choose to make a wonderful career, either in Australia or in any other country.
Now the question is how to get knowledge regarding various undergraduate courses, their availability in a particular Australian university, eligibility and other factors. Well- there could be 4 ways.
Know About UG Courses in Australia
1. Visit Universities in Australia: This is quite difficult, if not impossible, even if you are a very rich guy who may spend a lot of money on visiting Australia and taking information from each college.
2. Online Research: There are many good universities in Australia and almost all of them have a website. If you are focused on a particular university, then its ok, but if not, then the research may lead to a lot of confusion. Without proper guidance, it would be a futile exercise.
3. Talk to Overseas Education Career Counsellors: Yes, they help a lot. But again, you may have to invest a lot of time. There are chances that you may miss the current intake as seats get filled very fast in these universities. But, talking to them is better than researching about the UG courses online.
4. Education Fairs: From time to time Australia Education Fair is organized in top Indian cities. Here you can find representatives of many Australian Universities. They can guide you regarding the appropriate undergraduate course for you. Don't miss the chance to attend such education fairs. You can learn a lot regarding study in Australia under one roof. Entry to such fairs is generally 'free of cost' for students.
So, take whatever route you want, learn about various UG courses in Australia and choose the best undergraduate course after 12th. This is how you may lay a strong foundation for a robust career in the area of study chosen by you. Have a good student life!