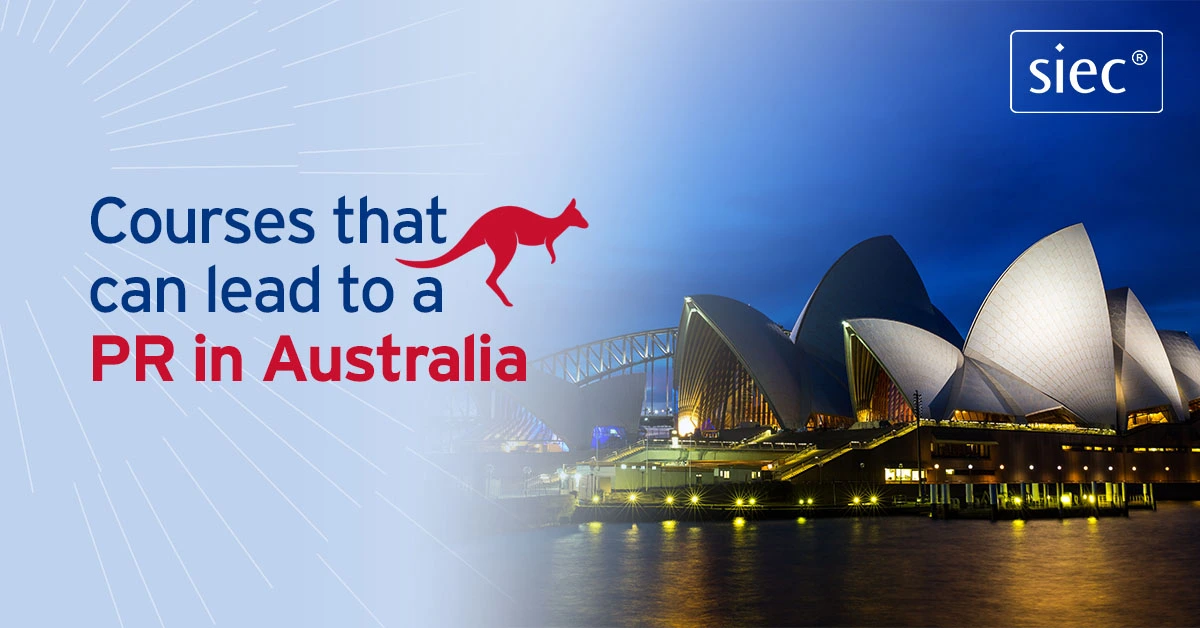 Courses that can lead to a PR in Australia
Australia, one of the famous international destinations for higher studies and permanent residency, stands out in the crowd when it comes to student preferences. Most students intend to stay in Australia permanently after completing their degrees because they believe it to be a secure, accepting, and supportive environment to live and study.
To study in Australia, you need to apply for a Student Visa. Later, you can apply for an Australian post-study work visa after completing two years of study at an accredited Australian university, vocational institution, or college (Subclass 485). This visa allows students to work and reside in the country for a period ranging from two to four years, depending on their qualifications. Furthermore, two to four years enables you to earn bonus points for your PR application.
This was about the post-study options but, does the country incorporate courses that can help you earn PR points? Yes definitely! This blog is all about the different courses in Australia that you can opt for if you are looking to obtain a PR in the country.
Engineering
For international students, studying engineering in Australia can lead to a variety of job prospects.
Engineers think beyond the box and come up with viable answers to odd and complex challenges. They create, design, build, manufacture, and invent new ideas and are the creators of a new concept.
Australia requires many engineers in various fields each year, including Agricultural, Civil, Software, Mechanical, Biomedical, Structural, Aeronautical, Environmental and others.
An engineer in Australia can expect a pay up to AUD66,000.
Accounting
Accounting is one of Australia's fastest-growing professions. This subject is a popular choice among students in Australia since it offers a wide range of employment opportunities.
To work as an accountant, you must have a bachelor's degree. Additionally, earning an MPA (Masters in Professional Accounting) can provide you with exciting work opportunities. You can apply for roles such as Corporate Treasurer, External Editor, Taxation Accountant, General Accountant, Management Accountant, and many others.
An accountant's average pay in Australia is roughly AUD75,000.
Nursing
Nursing is regarded as the most favourable occupation by many overseas students who aspire to study nursing in Australia.
With Australia's growing population, there is a great demand for qualified medical personnel. According to Australia's Future Health Workforce, over 123,000 nurses will be needed by 2030. So, if you have a strong desire to serve people and possess all of the necessary skills, now is the right time to apply for a nursing course at an Australian institution.
The average salary for a nurse in Australia is reported to be around $65,000 (GBP 38,535).
Teaching and Education
The Australian education system stands out in the crowd when it comes to quality. Taking education and teaching courses in Australia can lead to various careers, including vocational education teacher, primary and secondary school teacher, pre-primary school teacher, special needs teacher, university professor, and English instructor for non-native speakers.
Hospitality
In Australia, tourism is a flourishing business that provides exciting employment opportunities and permits overseas students to earn permanent residency. As a result, students with a passion for baking, cooking, or hotel administration can enrol in Australian hospitality education and make their ambitions a reality.
If you want to boost your PR by working in the Australian hospitality business, you may choose from various hospitality courses offered by reputable Australian schools.
These courses will prepare you to work as a Baker, Chef, Pastry Cook, B&B Owner, Restaurant or Cafe Manager, Licensed Club Manager, Camping or Caravan Park Manager, Accommodation and Hospitality Manager, Hotel or Motel Manager, and more.
A person working in the tourist or hospitality industry may expect to earn anything from AUD23,000 to AUD169,000.
Medical care
Due to the great need for health experts in the Australian healthcare industry, having a medical profession pays remarkably well in Australia.
Getting a medical degree in Australia can be a bit expensive. As a result, it is advised to prepare your resources carefully and keep in mind that it is a one-time payment, and you will be eligible for PR once you complete your studies.
Physiotherapy, Gynaecology, Neurosurgery, Orthopaedics, Dermatology, Radiology, Oncology, Medical Imaging, General Medicine, Prosthetics, Urology, and many other medical specialities are available. These are some of the most sought-after medical professions.
Automobiles
International students interested in fixing cars can find plenty of chances to study automotive courses in Australia. It also allows them to obtain permanent status in the country.
Motorcycle Mechanic, Automotive Electrician, Motor Mechanic, and Diesel Motor Mechanic are all in high demand in Australia. After completing your studies, you can apply for any of these positions and begin your career in the automotive business.
So above was a small nutshell of the courses that lead to a PR in Australia. If you plan to study in the country, join the Australia virtual education fair on the 18th of September 2021.
Register now.