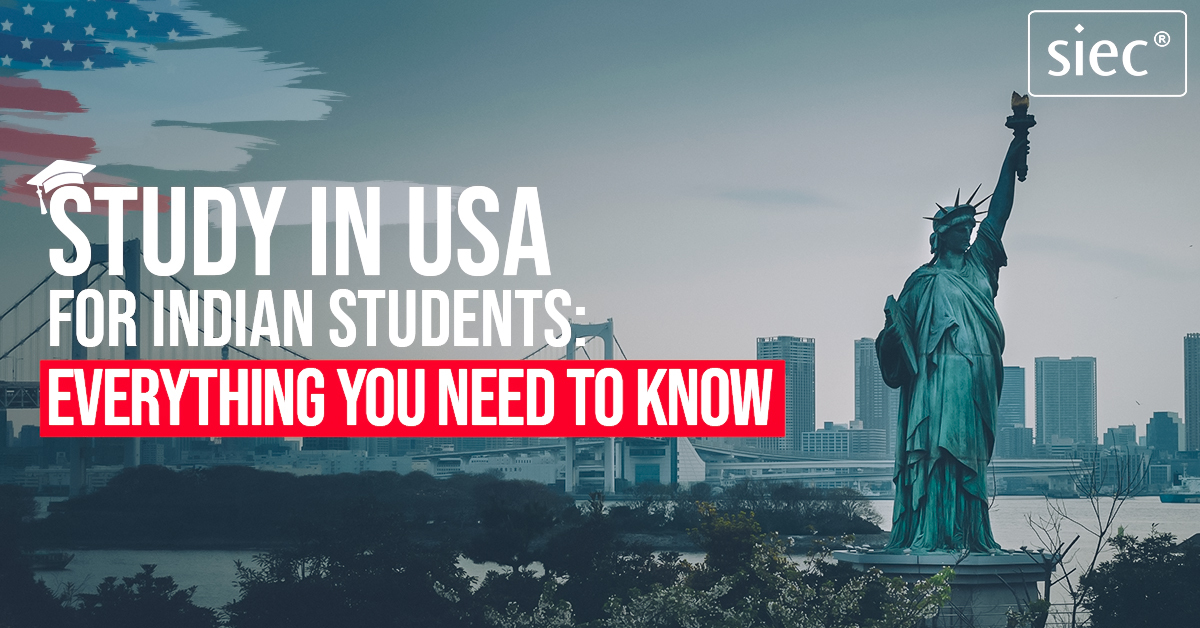 Study in USA for Indian Students: Everything You Need to Know
Several Indian students go to the United States annually to pursue full-time degrees and short-term courses. So if you plan to do the same, you have landed on the right page. In this blog, we will share with you everything you need to know regarding studying in the USA. Before we get to the specifics, let us first look at why one should study in the USA.
Why Study Abroad USA?
Ideally, students opt for studying in the USA majorly due to its reputation for a wide variety of career prospects, cultural diversity, innovative curriculum, and world-class education. But this is not it - below, we have discussed other major factors for studying in the States.
1. Life on Campus
Campus life in the US can be a game-changer for your academic as well as social life. It is completely your choice to opt for on-campus residency or not. Nonetheless, the best universities for Indian students in USA provide a number of athletic, cultural, and academic activities. These can be great for your overall exposure.
2. Flexibility of the Education System
The US education system is not only top-notch in quality but is flexible as well. Colleges and universities here offer a wide choice of programs and courses. In fact, you are flexible to choose the course's structure and content. In the first couple of years at the university, you can explore numerous subjects prior to finally opting for a major. This is not only great in terms of exposure but also because you get to study exactly what you want in the end.
3. College Rankings
The best universities to study in USA are ranked among the top universities globally. These international rankings and high recognition make them ideal for pursuing a course, especially for international students. Admission Requirements to Study in USA for Indian Students after 12th
The admission requirements vary from one college to another and are also dependent on the course you opt for. However, global students are generally required to submit the following documents and test scores while applying to the college or university of their choice:
Letter of Recommendation (LOR)
Statement of Purpose (SOP)
GRE or GMAT test scores
Work samples and experiences
English language proficiency test scores, like TOEFL or IELTS
Transcripts
The Cost of Studying in USA for Indian students
The cost of studying in USA is dependent on the kind of course or degree you opt for and the college or university you enroll yourself in. So if you study English in US, your tuition fee will not be the same as the cost of studying MBBS in America.
Given below is an estimation of the annual tuition fees for different courses.
Doctoral Degree: USD 30,000 to USD 60,000
Graduate Degree: USD 21,000 to USD 45,000
Undergraduate Programs: USD 15,000 to USD 50,000
Community College: USD 5,000 to USD 20,000
English Language Courses: USD 8,500 to USD 25,000
Requirements for Student Visa
The visa for international students willing to study in the US is of three kinds, explained below.
M Student Visa: This type of visa is for students opting for training, vocational, or non-academic courses in the US.
J Exchange Visa: J student visa is for participating in a university or a high school student exchange program.
F Student Visa: Most commonly opted for, the F student visa is to study at a recognized US university or at an institute to learn the English langage.
Scholarships for Indian Students to Study in USA
If you wish to study in USA with scholarship, there are several options. These vary from one university to another and are also dependent on your major. Nonetheless, you can consider applying for the following university scholarship programs:
International Baccalaureate Diploma Scholarship: A maximum of 1,000 USD
Saluki Gold Scholarship: A maximum of 14,000 USD
Diana T.Y. Chung and Henry WS Chung Memorial Scholarship Endowment: A maximum of 1,000 USD
Plater International Scholars Program: A maximum of 27,000 USD
YouAreWelcomeHere Scholarship: A maximum of 50 percent of tuition fees
Apart from the above-mentioned, there are scholarship programs for fully funded universities in USA as well.
How to Simultaneously Work and Study USA?
You are eligible for working and studying in the States if you are here through an F-1 visa. However, there are certain restrictions and guidelines issued by the United States Citizenship and Immigration Service, which you must first go through.
The most easily available employment opportunity is on-campus employment. Also, you will require a Social Security Number to work here.
The Bottom Line
The application for studying in the US as an Indian student can be a tiring process but the outcome is worth the time and effort. A few things to keep in mind while applying are the course you wish to opt for, the kind of place you want to live in, and the budget. Then you are all set to study in USA.