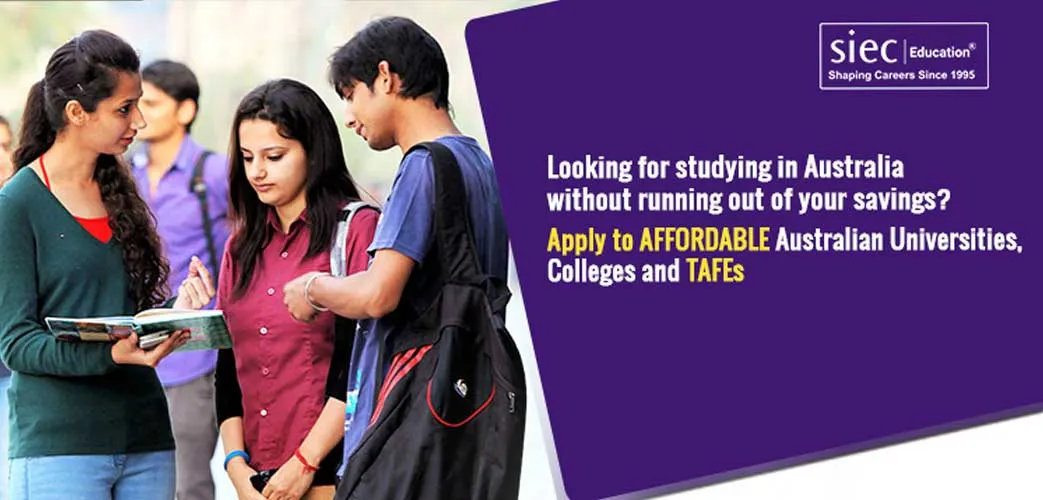 Looking for studying in Australia without running out of your savings?
Looking for studying in Australia without running out of your savings?
Apply to AFFORDABLE Australian Universities, Colleges and TAFEs
There are numerous university options in Australia if you want to minimise your study abroad cost without compromising on the quality of education.
These Australian institutions make studies affordable through low fee structure and scholarships.
Onto our list of affordable institutions in Australia-
Federation University : (Brisbane, Ballarat, Gippsland, Berwick campuses): Average fee – AUD 25000 per annum with an opportunity to get 20% scholarship; study Business, Engineering and Hospitality courses.
Kaplan Business School: (Melbourne, Sydney, Adelaide, Brisbane campuses): Courses in Business at UG and PG level; fee range – AUD 16000 to 20000 per annum.
University of Tasmania: Many scholarships available like 50% accommodation bursary and other scholarships, with regional PR options; study IT, Business, Engineering, Arts, Music. Etc.
TAFE Institutes like Chisholm, Holmesglen, and Box Hill: Degree courses in IT, Commerce and Engineering a low fee; AUD 13000–16000 per annum.
Southern Cross University: (Melbourne, Sydney campuses): Up to 30% scholarship to students, making the fee as low as AUD 18000 per annum; study Accounting, Business, Hospitality, Health Science and more.
Melbourne Institute of technology: (Melbourne and Sydney campuses) Offers excellent courses in Networking (UG & PG) and Accounting (UG & PG) at low fee, AUD 19000 per annum.
University of South Australia :( Adelaide campus) Offers PR opportunities; generous 25% scholarship in 1st year; study Engineering, Business, Construction, Hospitality, Health Science etc.
Flinders University: Offers 15% scholarship across Business courses for both years (PG only); study Engineering & Design, Law, Nursing, IT, Psychology and also Education.
University of Adelaide: Offers a range of scholarship starting from 15%, 30% and 50% to international students; study Nursing, Finance, IT, Economics etc.
Want to know more about these universities/colleges? Register for our Australia Admissions Day and meet with Australian university admission officers to apply on the spot!