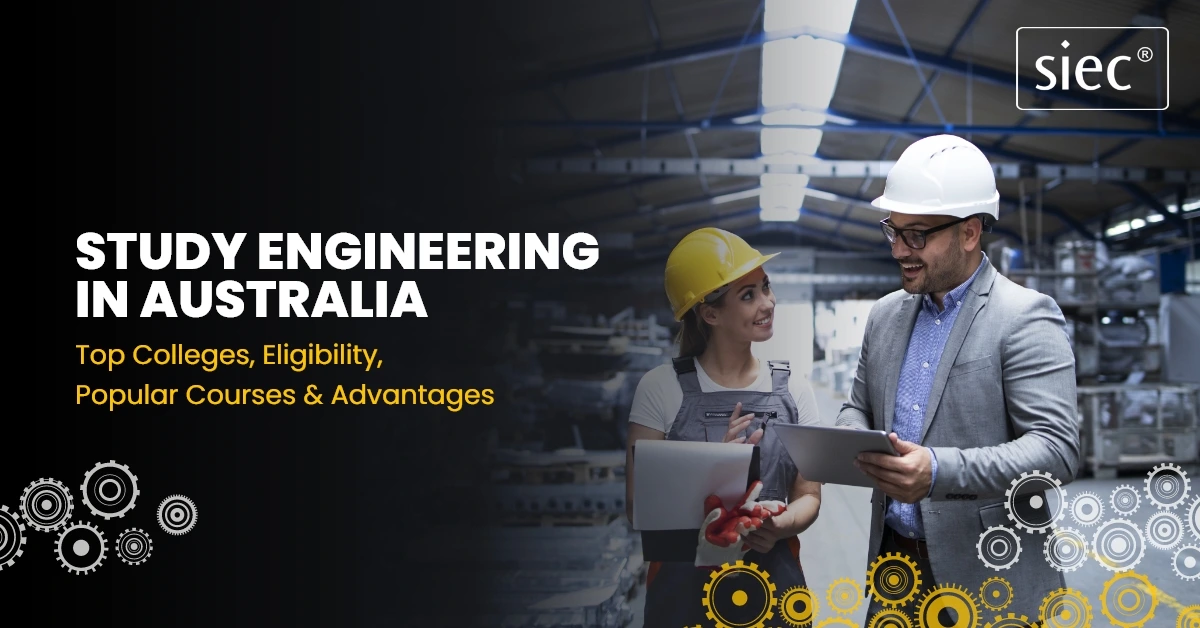 Study Engineering in Australia
Australia - the Island Continent, Australia is home to many beautiful beaches and islands drenched in sunshine all year long. With a diverse choice of internationally recognized higher education institutions, many students desire to study in Australia for global exposure and valuable degrees. The country, particularly in the field of engineering and technology, provides a diverse range of educational options at reasonable prices. In this blog, let us walk you through the elements of studying Engineering in Australia, including projected prices, accessible programmes, and top colleges.
Why study engineering in Australia?
As an international student, Australia might be an excellent place to further your engineering education. All Australian educational institutions have the necessary infrastructure, technological expertise, skilled professors, and other resources to ensure that you have a quality educational experience.
According to the recent Subject oriented QS World University Ranking, Australia is home to 20 universities ranking among the 502 top universities and colleges for engineering and technology across the globe.
Australian Universities offer a wide range of specialized engineering programs, including Geotechnical Engineering, Material Sciences, Robotics and Energy systems.
The University of New South Wales in Australia is one of the world's largest faculties and offers students 160 different specializations to choose from.
Studying engineering in Australia will help dig deep into their knowledge in specific sectors and benefit from extensive research opportunities. The country is well-known for its contributions to science and technology.
Top Universities for Engineering in Australia
Picking the right university for your desired program plays a vital role in shaping your academic and professional path. As a result, if you want to get the most out of your selected degree and get worldwide exposure, you need to do your homework before choosing an academic school.
The following are some of Australia's most prestigious engineering universities to consider:
The University of Melbourne
Australian National University
Monash University
Royal Melbourne Institute of Technology
University of Queensland
University of Sydney
University of New South Wales
University of Newcastle
University of Wollongong
Curtin University of Technology
List of popular courses: Engineering in Australia
Education Level
Diploma & Certificate - Engineering
Engineering Infrastructure
Computer System Technology
Network Engineering
Engineering Technology
Electrotechnology
Building and Construction
Undergraduate
Material Sciences
Civil Engineering
Marine Science
Aerospace Engineering
Defence Engineering
Electrical Engineering
Automation Engineering
Mechatronics and Robotics
Postgraduate
Nuclear Engineering
Sound Engineering
Photovoltaics and Solar Engineering
Chemical Processing
Energy System
Geothermal Engineering
Petroleum Engineering
Project Management
Eligibility Criteria
Students willing to study engineering in Australia need to fulfil mandatory eligibility criteria for their chosen university or institution. The requirement may vary depending on the course and institute.
Following are a few essential requirements.
High School (10+2) from a recognized board
Lucrative Letter of Recommendation & Statement of Purpose
English Language Proficiency Test - IELTS
GRE is mandatory for pursuing a master's degree.
Best Australian Cities for International students
Australian cities are modern megacities with advanced infrastructure and facilities, thanks to the country's booming biodiversity and economy. Following are some of the Australian cities which are ideal destinations for international students due to affordable accommodation, available multinational cuisines, feasible transportation and excellent medical facilities:
Sydney, another Australian Metro city, has over 65% of the country's population living there. The University of Sydney was considered the nation's first university and is now one of the top choices for engineering amongst students. Some of the prestigious institutions in Sydney are:
University of Technology Sydney
University of New South Wales
Western Sydney University
Melbourne - The Capital city of Australia has an approx population of 4.9 million followers. Talking about the facilities offered, the city has the largest tram system in Australia, the National Library of Victoria also the city houses some the prestigious universities such as:
RMIT University
La Trobe University
University of Melbourne
Brisbane, Queensland's capital city, is surrounded by serene seas and is home to the region's largest percentage of the population.
It is another popular destination for overseas students, with several technical schools such as:
Queensland University of Technology
Griffth University
The University of Queensland
In conclusion, we hope that this blog has helped you understand the essential elements of studying engineering in Australia. Contact SIEC today to know opportunities to study in Australia , scholarships, intakes and the visa process for engineering.