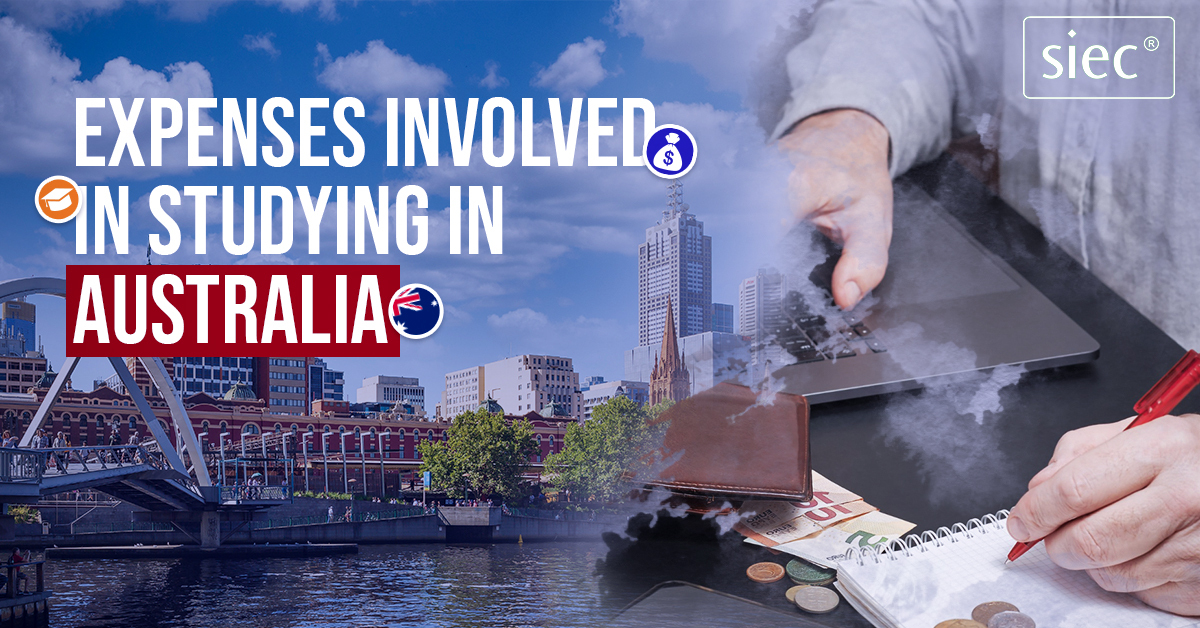 Expenses Involved in Studying in Australia
Australia is among the major study destinations globally, considering the 600,000 people who come here to study every year. And who wouldn't want such world-class facilities and education? So are you planning to pursue your studies in Australia as well? In that case, before you apply for your Australia study visa, we would like you to know about the expenses involved in studying here. It is crucial to take these into consideration prior to applying to universities.
Let's delve right into the details.
Overview: Costs of Living in Australia
Before we get to the individual costs of studying in the country, let's have a look at the major costs involved when it comes to living here.
| | |
| --- | --- |
| Category | Price Range (in AUD) |
| Entertainment | $100 to $150 |
| Public transport | $30 to $60 |
| Internet and phone | $15 to $30 |
| Electricity and gas | $15 to $20 |
| Groceries | $100 to $200 |
1. Tuition Fees to Study in Australia
Whether you wish to pursue your bachelor's or masters in Australia, the tuition fees is significantly high for several global students. Ideally, the fees vary based on the kind of qualification and the university a student opts for. The average fee is between AUD 20,000 to AUD 30,000 per year. This means that even if you go to the cheapest university in Australia, you will be paying nearly AUD 20,000 annually.
In comparison with medical and engineering courses, art and humanities programs are less expensive. Nonetheless, the tuition fees for postgraduate programs are higher than that of undergraduate programs. But overall, it depends on the university or school you opt for.
2. Australia Study Visa
With a study visa, one can study in the country for a maximum of five years at a renowned higher education institution. It is necessary to enroll in a higher education institute in order to apply for such a visa. The present fee for Student Visa (Subclass 500) is AUD 650.
3. Food/Meals
Your groceries will cost nearly $100 to $200 weekly, which you can purchase from a local supermarket. Further, if you have a meal in a low-cost restaurant here, the average cost will be $18 per meal. And since the country has a wide variety of cuisines and restaurants, you can eat whatever pleases you and keep experimenting as well.
4. Transportation Expenses
Some of the best universities in Australia offer private transportation choices to students who wish to travel around the city. Nonetheless, one can still opt for public transport. Short distances can be covered through buses, trams, trains, and ferries. Such rides cost nearly $3. In case you wish to travel on a regular basis, you can also buy a monthly pass.
5. Costs for Accommodation
A majority of Australian universities provide global students with a choice of living on-campus. However, you can also consider living in an apartment, a homestay, or a guest house. The rental costs vary from one city to another and are usually paid two to four weeks in advance. Given below is an estimation of costs for various kinds of accommodation.
Rent an apartment: $1700 monthly
Student halls of residence: $320 to $1000 monthly
Guest house: $320 to $540 monthly
Homestay: $440 to $1,080 monthly
6. Other Costs
While the costs mentioned above were the major ones, the miscellaneous expenses are what goes unnoticed. Moreover, living in another country involves keeping money aside for basic amenities as well as certain emergencies. Thus, we have further discussed these kinds of expenses below. Typically, a student spends somewhere between AUD 200 and AUD 400 weekly.
Personal expenses: These are entirely dependent on a student's lifestyle and comprise toiletries, clothing, laundry, and eating out.
Supplies and Books: Purchasing books for programs like engineering, law, and medicine can be a bit expensive. Thus, you can manage your expenditure by buying second-hand textbooks, opting for a library membership, or buying e-books.
Communication Costs: As a person who lives abroad, you will be calling your family and friends back home, which may further incur expenses associated with phone bills and mobile data. Usually, the budget for a quarter is AUD 60 for phone calls. Alternatively, you can make WhatsApp voice/video calls as well to save international roaming charges.
The Bottom Line
To be able to study in Australia requires a proper estimation of all kinds of expenses. This is why we have discussed all kinds of expenses involved. Tuition fees and accommodation costs associated with education in Australia will be known to you beforehand. Nonetheless, during your first couple of months in the country as a student, you will get a proper idea based on your lifestyle.