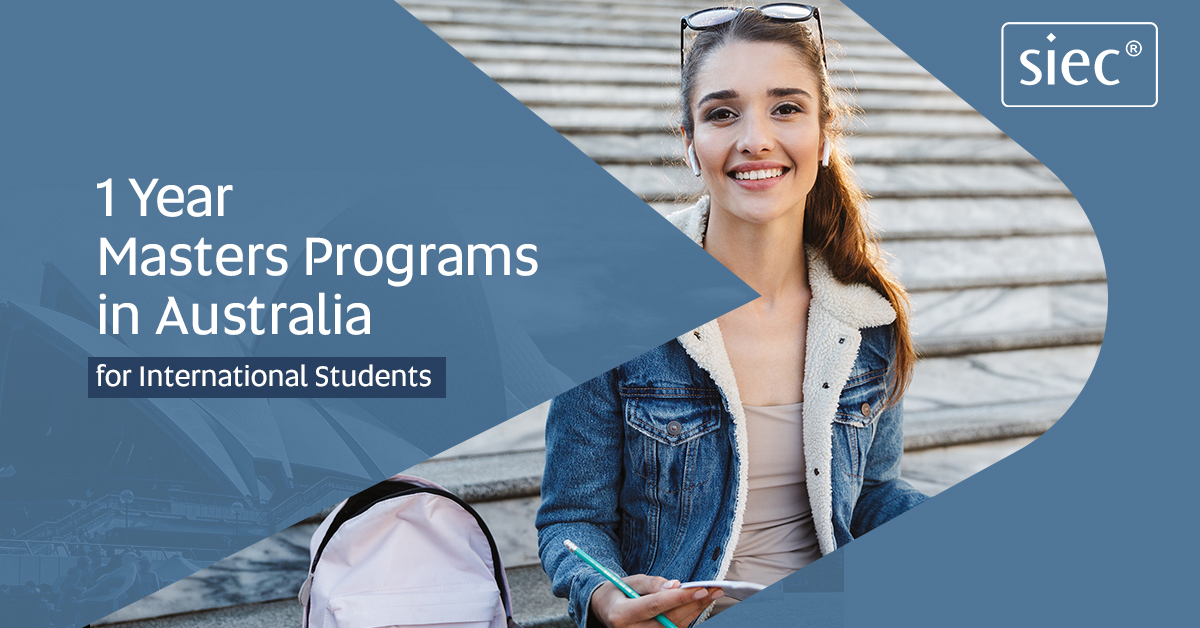 1 Year Masters Programs in Australia for International Students
Australia is among the most popular study destinations in the entire world, mainly due to quality education and a wide range of career opportunities. So if you plan to pursue a master's program in the country as an international student, this guide is for you. A master's program in the country can be from 1 to 2 years. Ideally, the master's degree requires 18 to 24 months. However, postgraduate diplomas and certificates can be obtained in a year's time. Since this article will focus on 1 year masters programs in Australia, the courses listed below are mostly postgraduate diploma and certificate programs. So without delaying further, let's delve into the specifics.
Why Study a Postgraduate Diploma/Certificate Course?
If you are wondering why you should take a postgraduate diploma or certificate course instead of a master's degree in Australia, here are some reasons why.
A master's degree takes 18 to 24 months to complete while postgraduate diploma and certificate courses are 1-year programs.
Due to its longer duration, a master's degree is more expensive.
A master's degree is typically concentrated on academic knowledge. On the other hand, certificate and diploma programs are more focused on developing the student's practical skills.
The number of credits, courses, and amount of workload is lower in postgraduate diplomas and certificates.
You can commit to a part-time job while remaining on a flexible schedule while you pursue a diploma or certificate program. This is a benefit that the master's program students don't get.
#1: Sports Analytics at the University of Canberra
The University of Canberra Australia offers an online Sports Analytics postgraduate certificate that allows students to gather, analyze, and interpret sporting data produced from a wide variety of systems. Considering the enhanced emphasis placed by athletes and sports teams on data and technology, now is the right time to enroll in this course. The tuition fee for the same is AUD 32,060.
#2: TESOL and FLT at the University of Canberra
This on-campus postgraduate diploma course of TESOL and Foreign Language Teaching (FLT) is high in demand. This is because of the rising demand for language teachers globally. The program provides practical knowledge and skills that aid students to make maximum use of their language skills. The tuition fee for the course is AUD 29,000.
#3: Master of Nursing at the University of Newcastle
Among the very few 1-year master's degree programs is the master of nursing at the University of Newcastle. The tuition fee for the same is nearly AUD 41,000. The course aids students to develop their skills in evidence-based practice, research, health care improvement, clinical education, and professional leadership. Not to mention, the nursing degree offers a wide range of opportunities due to the multitude of professions that an individual can choose from, especially if they continue to work in Australia.
#4: Master of Animation and Visualization at the University of Technology Sydney
University of Technology Sydney Australia offers a 1-year master's program in Animation and Visualization with a tuition fee of AUD 57,000. The course has been designed in collaboration with Animal Logic and is provided by the UTS Animal Logic Academy. So if you are interested in applying for the same, check out their deadlines for application and document requirements.
#5: Mining at Curtin University
If you are interested in acquiring explicit knowledge of the mining industry and making a career in it, this course may be the best for you. Curtin University offers a 1-year postgraduate diploma in mining, which starts in February every year. The tuition fee is AUD 38,000 for the course.
#6: Construction Management at the University of Technology Sydney
If you have a graduate degree related to the field of construction and wish to obtain knowledge related to the management of construction project operations, this is the right course for you. The Construction Management course offered by the University of Technology Sydney is a postgraduate certificate with a tuition fee of just AUD 18,500.
#7: Education at Curtin University
Looking for a Master of Education program in Australia? Curtin University has got you covered. The course, with a tuition fee of nearly AUD 31,000, is ideal for building students' experience and professional knowledge. It provides intellectually challenging and interacting units of study that consist of cutting-edge, current, and relevant research and knowledge in a myriad of specialist areas.
#8: Strategic Communication at the University of Tasmania
Located in Hobart, Tasmania, the University of Tasmania is popular for its wide variety of courses, one of which is Strategic Communication. The postgraduate diploma program has a tuition fee of AUD 32,000 for a year. It aims to develop entrepreneurial and self-reliant communicators who can successfully take part in the contemporary media setting.
The Bottom Line
Oftentimes, Australia international students willing to pursue a master's program prefer taking courses that have a duration of a year. This is why we shared above some of the best masters courses to Study in Australia at the best universities. These were a blend of master's degrees, postgraduate certificates, and postgraduate diploma programs. Remember to perform thorough research before you pick a course.