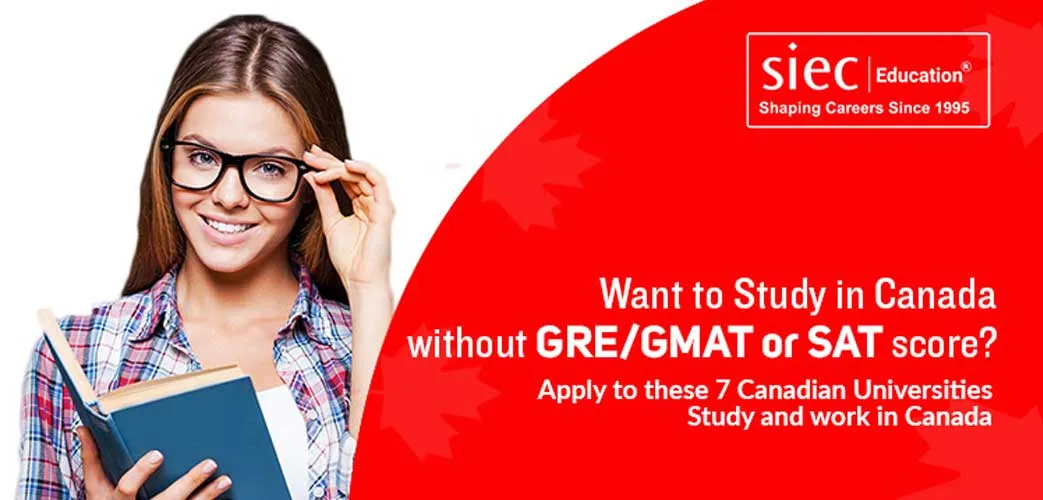 Want to Study in Canada without GRE/GMAT or SAT score?
Want to Study in Canada without GRE/GMAT or SAT score?
Apply to these 7 Canadian Universities; Study and work in Canada
In case you have not taken GRE/GMAT or SAT but want to study in Canada, some good options are available for you.
Not all universities require GRE/GMAT or SAT in Canada. In fact, very few have it as a mandatory requirement – which can be specific to a few programs as well.
You may apply to the following Canadian universities.
University of Windsor: Very prestigious; among top 30 in Canada; study Business, Law, Engineering, Education, Nursing & Social Work; the location of the campus is just amazing.
Royal Roads University: Among the top 60 Universities in Canada; offers Graduate, UG and Certificate programs in subjects like Business, Communication, and Environment & Education.
Concordia University, Edmonton: Ranked 77 in Canada; offers bachelors & master's degrees in several areas of study like Accounting, Science, and Language studies, IT & Computers, Health Science etc.
Farleigh Dickinson University: Study in one of the world's most multicultural cities, Vancouver; popular courses at the university are in subjects like Business, Hospitality, IT and Administrative Science.
Trent University: No 1 UG University in Ontario and No 4 Research University in Canada; No 1 in Canada for Scholarships; study IT, Business, Accounting, Arts & Science or Data Analytics.
Thompson River University: One of the best institutions to pursue MBA in Canada; offers 140 on-campus programs, certificates, apprenticeships, UG and MS degrees; learn and earn with co-op programs; Culinary Arts program is quite popular here.
Capilano University: Institution with 22% International students; offers accredited UG programs in Business, Visual Communication, Performing Arts, Music Therapy, Tourism and Childhood Education.
Want to know more about these universities? Register for our Canada Admissions Day and meet with Canadian university admission officers to apply on the spot!