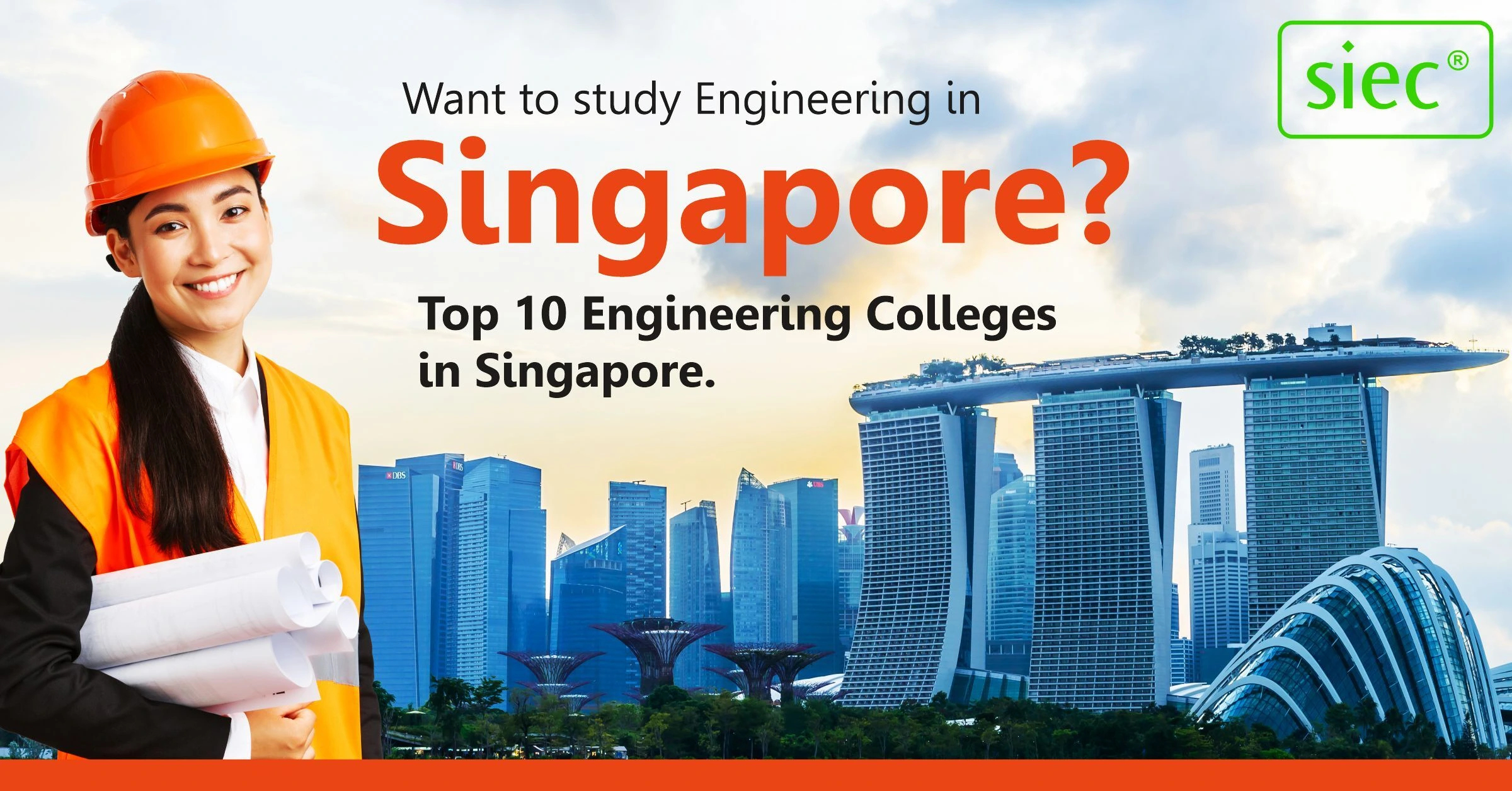 Want to study Engineering in Singapore? Top 10 Engineering Colleges in Singapore
About Singapore
Singapore - An island nation, rich in cultural heritage, offering its citizens a modern cosmopolitan lifestyle. The nation is partnered with various world-class universities and its unique program makes it a perfect study destination for international students. All thanks to the country's rapid development, Singapore has now become the worldwide hub for education, entertainment, finance, and healthcare. Having a reputation for being populated, it is considered the safest country in the world. Both professionally and socially, the city provides excellent opportunities.
Why Study in Singapore?
Singapore is a popular destination for students wanting to study abroad, with its multiple beautiful universities and rich cultural legacy, draws a large number of international students from all over the world. Engineering courses are among the most popular programmes provided by Singapore's technical schools and colleges. Engineering is one of the most sought-after disciplines globally. If you want to study Engineering in Singapore for a certificate, bachelor's degree, or master's degree, you've come to the right place! Let's have a look at some of Singapore's best Engineering Colleges and the high-quality educational programmes they provide.
Eligibility Criteria for Engineering Courses in Singapore
If you are seeking admission to the engineering courses in Singapore universities, you must fulfil some of the eligibility criteria as decided by the University. Eligibility requirements may vary depending upon the college you have applied to,
however, here are some of the common requirements for Singapore colleges and universities.
Universities prefer candidates with an excellent academic record in previous education. Also, students may be required to take entrance tests for some courses.
Students applying to graduate engineering programmes should have a Bachelor's degree in the relevant subject of study and a strong score in the GRE and GATE.
English Language proficiency exam such as IELTS and TOEFL is mandatory.
Top Engineering Colleges in Singapore for International Students.
Globally Ranked University/College in Singapore
| University | QS World University Ranking 2021 - Engineering | QS World University Ranking 2021 - Asia |
| --- | --- | --- |
| National University of Singapore | 11 | 1 |
| Nanyang Technology University | 13 | 3 |
National University of Singapore (NUS)
Established in 1968, NUS is amongst the leading institutions in Asia, offering a wide range of undergraduate and postgraduate courses. The university offers its students global exposure in terms of education and research.
Popular Courses in NUS
Bioengineering
Industrial & System Engineering
Mechanical Engineering
Civil & Environmental Engineering
Electrical & Computer Engineering
Chemical & Biomolecular Engineering
Nanyang Technology University
The National University of Singapore, established in 1905, is one of the country's oldest and most prestigious universities. The college provides traditional four-year Bachelor of Engineering degrees in the following fields at its three major campuses in Kent Ridge, Outram, and Bukit Timah.
Popular Courses in Nanyang Technology University
Chemical Engineering
Computer Engineering
Biomedical Engineering
Civil Engineering
Marine Engineering
Electrical Engineering
Industrial & Systems Engineering
SIM University
SIM Institution is Singapore's sole national private university and receives significant funding from the government. It was founded in the year 2005. This university caters to working professionals' demands and solely accepts part-time students.
Popular Courses in SIM University
Electrical & Electronics
Aircraft Engineering
Singapore University of Technology & designed
Singapore University of Technology and Design, founded in 2009, is an independent university that offers specialised education in Engineering, Architecture, and Design. The university, being one of Singapore's specialised technical and engineering colleges, has designed its own unique course for undergraduate students, with Engineering courses lasting three and a half years.
Popular Courses in Singapore University of Technology & Design
Engineering Product Development
Architecture and Sustainable Design
Engineering System and Design
Information System Technology & Design
Singapore Management University
The School of Information Systems at Singapore Management University is a separate faculty focused on Engineering courses. It is one of Singapore's most prestigious engineering institutions, with a 97.8% employment rate.
Popular Courses in Singapore Management University
Computer Science
Computing and Law
Informatics System
National Institute of Education
National Institute of Education is among the most successful educational institutions in Singapore.
Singapore Institue of Technology
Singapore Institute of Technology, founded in 2009, is yet another top Singapore engineering institution and is known for its innovative approach to teaching. It provides students with distinct speciality degrees, mostly at the undergraduate level. These degrees are very job-specific and implementation-oriented, instructing students on the specifics of their chosen profession.
Popular Courses in Singapore Institute of Technology
Marine Engineering
Aircraft Engineering
Telematics
Sustainable Infrastructure Engineering
Singapore Institue of Technology
The Singapore Institute of Technology was founded in 2009. The university currently has 2300 graduates. It promises to be Singapore's fifth institution, in cooperation with MIT and ZJU universities.
Popular Courses in Singapore Institute of Technology
Electrical Power Engineering
Naval Architecture
Chemical Engineering
Marine Engineering
Aerospace System
Aeronautical Engineering
Shines colleges
Shines College was founded in 1983 with the purpose of spreading professional knowledge in order to improve the quality of life of society in general and the weaker sections specifically.
The Logistic Institute - Aisa Pacific
Established in 1998, the Logistic Institue -Asia Pacific was founded in collaboration with logistics and research education between the National University of Singapore and Georgia Institute of Technology (GT).
Popular Courses in The Logistic Institute - Aisa Pacific
Chemical Engineering
Engineering Science
Civil Engineering
Bioengineering
Mechanical Engineering
Materials Science & Engineering
This was all about the leading engineering universities/colleges in Singapore. Are you planning to study in Singapore? Reach out to your nearest SIEC branch today, to know about eligibility, intakes and courses.