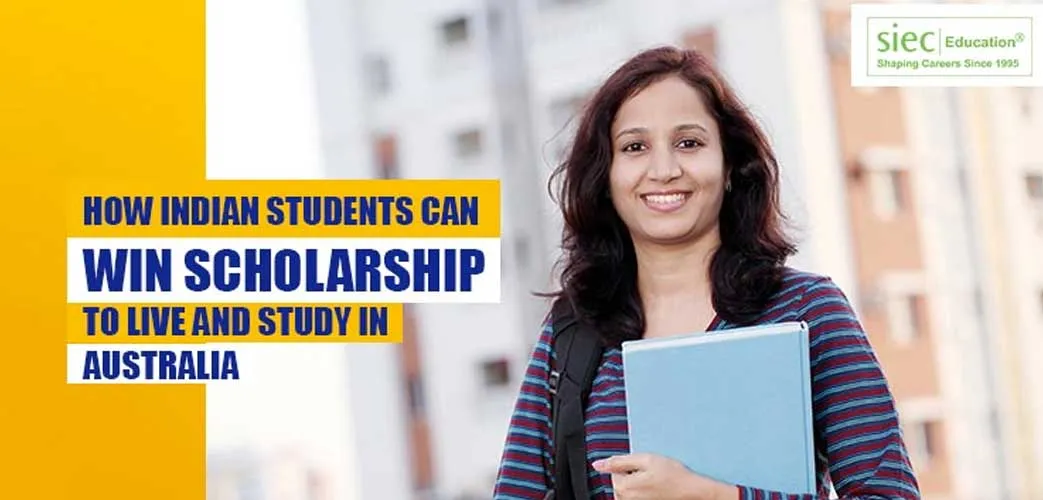 How Indian Students Can Win Scholarship to Live and Study in Australia
A scholarship is a reward for your academic excellence, your aspiration and your perseverance. It gives wings to your dreams and makes you fly, with little less effort, to your favorite study abroad destination, Australia.
A lot of Indian students who want to study in Australia have a natural question in their mind- how to get a scholarship to study in Australia.
Well, there are certain ways to achieve that and it is possible if you make an attempt with good knowledge. Yes, knowledge is the key if you want to earn a scholarship to live and study in Australia. Let's see what types of scholarship you can apply for.
Types of Scholarship
Broadly there are 3 types of scholarships that are available for Indian students so that they can reduce their financial burden and can start a wonderful educational journey in the vibrant country, Australia. The three types of scholarship are-
A. Government-Funded Scholarships
As the name suggests, the Australian government awards this scholarship to international students. Some of them are-
1. Australia Awards: Scholarship to Indian students and also to students from other developing countries located in the Indo-Pacific region. They can undertake a UG or PG study at Australian universities and Technical Institutions. Students get benefits in tuition fee, air travel, accommodation, health cover, an aide for living expenses etc.
2. Endeavour PG Scholarships: A merit-based scholarship, funded by the Australian government. It is available to PG students from India and also students from the Asia-Pacific region, Europe, the Middle East and the USA.
3. Research Training Program: PG-level scholarships for domestic and international students to study for a research degree.
B. University-Linked Scholarships
Again, as the name suggests these scholarships are linked with particular Australian universities. Maximum students from India get benefits from these scholarships.
A recent example is of Bangalore boy Sai Manoj, who won A$ 65,000 (about INR 33 Lakh) scholarship to study business in Flinders University, Australia. He aspired to study in Australia so he took guidance from top overseas consultants at SIEC Australia Education Fair and applied for the Flinders-BW 100 % scholarship at the fair only. He fulfilled certain criteria and, won it. He is in Australia now preparing to attend classes after taking admission in July'18 intake. Yes, efforts pay!
The scholarship he won was linked with the Flinders University. Let's check out some other scholarships.
1. Curtin University Research Scholarships: Scholarships for international students undertaking Masters or Ph.D. programs here.
2. Deakin University: This University has also introduced various scholarships for International students to study here.
3. La Trobe Academic Excellence Scholarships: High-achieving students from outside Australia can win it and get enrolled in any UG or PG program.
4. Monash University International Scholarships for Excellence: This is yet another merit-based scholarship for UG and graduate international students to study at Monash University, a world-ranked university.
5. University of Sydney International Scholarships: Scholarship up to 100 % for International students to take admission in UG or PG level courses.
6. University of Western Australia- International PG Research Scholarship: This is a prestigious research scholarship for Master's and doctoral-level students to study at the University of Western Australia. It covers tuition fee, health insurance and sometimes living expenses.
7. UTS International UG Full Tuition Scholarship: One of the top technical institutions in Australia, UTS pays each recipient's tuition fee for the bachelor's degree. An equivalent PG scholarship is also available.
8. Victoria University International Scholarship: It offers a range of scholarships for international students, including those from India.
Of course, other Australian universities also offer scholarships to international students. You can explore them too.
C. Miscellaneous Scholarships
Certain scholarships are linked with particular courses also. International students may earn them by taking admission in those courses. For ex-
1. Water Centre Scholarships for International Students: This scholarship is offered to the international student who undertakes the Masters in Integrated Water Management programat the Brisbane campus of the University of Queensland.
2. Particular Country Student: Sometimes Australian university scholarships are offered to the students from a particular country. For ex-
UTS Insearch offers scholarships to Indian students from CBSE Board, if they have 65% marks, they would get A$5000 scholarship.
UTS Insearch provides A$5000 scholarship to Haryana board students if they If they have 70% marks.
And like that…
Knowledge is the Key
Now, since we know that many kinds of scholarships are available in various Australian universities for Indian students, the next question that may arise would be-how to know about them. There are many ways to acquire that knowledge. Some of them are-
1. Newspaper Ads: Keep an eye on the education section of various newspapers. They publish ads of scholarship offers of different Australian universities.
2. Word of Mouth: Stay in touch with your friends who also have this dream to study in Australia. You never know they have knowledge about scholarship offers in top Australian universities as they have attended any Australia Education Fair.
3. Social Media: Almost all the Australian universities have Facebook pages or Twitter accounts. Check them out in your free time. Who knows, you come across the scholarship opportunity you were waiting for.
4. Education Fairs: Top overseas education consultants organize Australia Education Fairs in the top cities of India regularly. Learn about them and if it is happening in your city, just be there. You will get all the required information about the scholarship of all the Australian universities under one roof.
5. Ask your friends who are studying in Australia: Yes, it happens like this also. If any college senior of yours or a friend is studying in an Australian University, ask him/her about scholarship opportunities in his/her university, you will get the information from the horse's mouth.
So, just keep your eyes and ears open and get the right knowledge regarding scholarship opportunities for studying in Australia. Who knows one day you are visiting an Australia Education Fair and another day you are thinking about how to apply for an Australian Visa.
So-best of luck for your overseas educational endeavors!