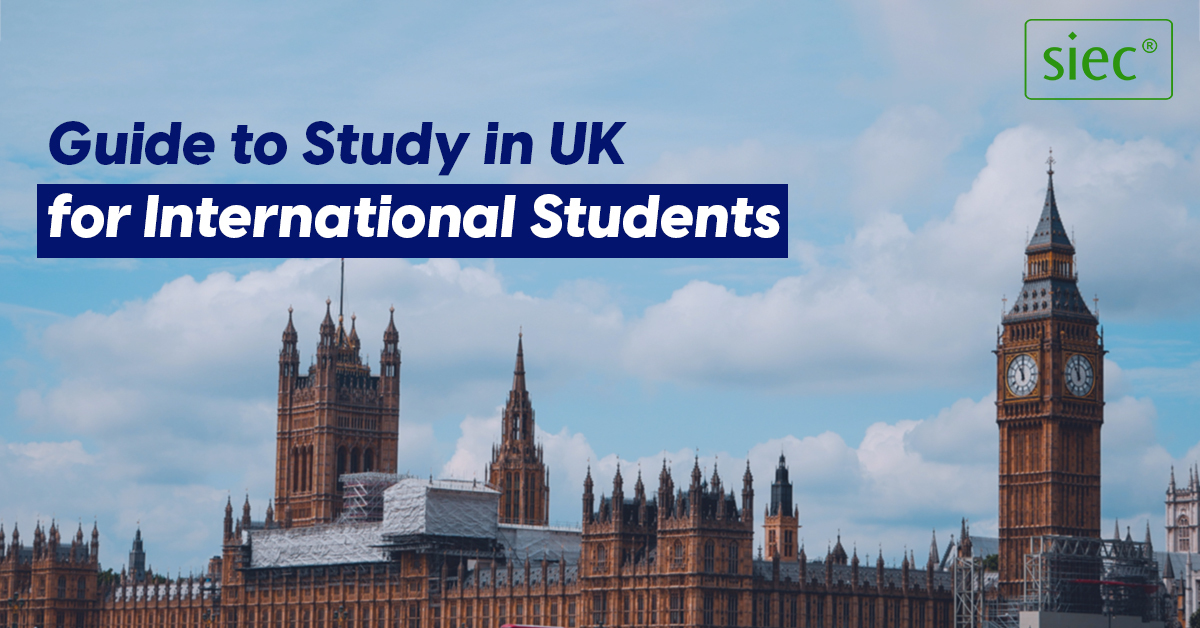 Guide to Study in UK for International Students
Want to study in UK but aren't sure how to go for the same? Don't worry, we've got you covered. Consider this blog as a guide to study in UK for international students. Here, we will discuss everything related to pursuing studies in the UK. This includes the education system, the basics of the UK, the reasons for studying here, financial aid, as well as online degrees. So what are we waiting for? Let's delve right into the details.
Why Study in UK?
Before we get into the specifics, let's first answer the most critical question, "Why to choose the UK for studies?" Well, there are several reasons to opt for a course in the UK. Beginning from the basics, the UK has a rich history and culture. Not to mention, cultural diversity implies wide perspectives and opinions, which results in a great amount of exposure.
Moreover, the UK comprises Northern Ireland, Wales, Scotland, and England, all of which are known to be excellent study destinations. Not only do the universities located in the UK offer world-class education but they also provide extra-curricular activities that overall enhance a student's performance in all areas.
The Education System in the UK
The education system here is essentially categorized into four types: Primary Education, Secondary Education, Further Education, and Higher Education. These are explained below.
Primary Education
Primary education in the UK is ideally between ages five and 11. This involves stages one and two, which take place at primary schools.
Secondary Education
Secondary education in the UK is ideally between ages 11 and 16. This involves stages three and four, which are undertaken at secondary schools. Till here, education is mandatory in the UK.
Further Education
Post-completion of secondary education, students have a choice of opting for BTECs, GNVQs, or A-levels in order to pursue further education. Students willing to pursue higher education at universities and colleges must complete this.
Higher Education
Finally, the students opt for a degree course at a university, which is higher education. Usually, it is for these courses that students from all over the world come to the UK to study. Typically, each university has different entry requirements and eligibility criteria.
Funding for Higher Studies in the UK
Several students face financial problems when it comes to studying abroad. This is why one must consider all kinds of options for financial aid before beginning to apply for universities in the UK. Usually, the cost of studying in UK for Indian students is quite high.
Thus, these are the following aspects that one must take into account:
Scholarships
Funding Sources
Budgeting
Living expenses
Tuition Fees
While there are a number of postgraduate as well as undergraduate scholarships for international students in UK, thorough research is necessary. Following are some tips for performing the same:
Look for financial aid on the websites of universities you have shortlisted.
Ask questions from students who have already studied in the UK. These can be friends you know. Else, you can also look for questions/answers online on platforms such as Quora.
Collect as many books and brochures as you can. It can be in the form of hard copies and e-books.
Mail the universities' information center to clear your doubts.
Consult a company like SIEC that can help you find the best university choice along with information related to financial aid.
Living in the UK to Study
When you move from one nation to another in order to pursue your higher degree, there are numerous factors that you must take into consideration. If you're thinking about finances, university ranking, job opportunities, and courses, you're right. But these aren't the ones we are talking about - we are talking about other factors like the weather. For instance, you will be required to carry warm clothing items. Some more aspects are:
The Bottom Line
In this blog, we discussed almost every aspect of studying in the UK for international students. From UK scholarships to the education system, we covered all the major factors that must be taken into consideration.
Immigration and Visa: Find out about the immigration and visa requirements of the nation based on your country of origin.
Traveling in the UK: Look for the best ways to travel around in the UK.
Accommodation for Students: There are several options when it comes to choosing accommodation - you can rent an apartment in the vicinity, or consider opting for a dormitory. Oftentimes, university accommodations are more expensive than other choices but are much safer.
Culture and People: Learn about the culture that the British follow.
Climate: The climatic conditions in the UK may be different from those of your nation. Thus, perform thorough research before moving to the UK.