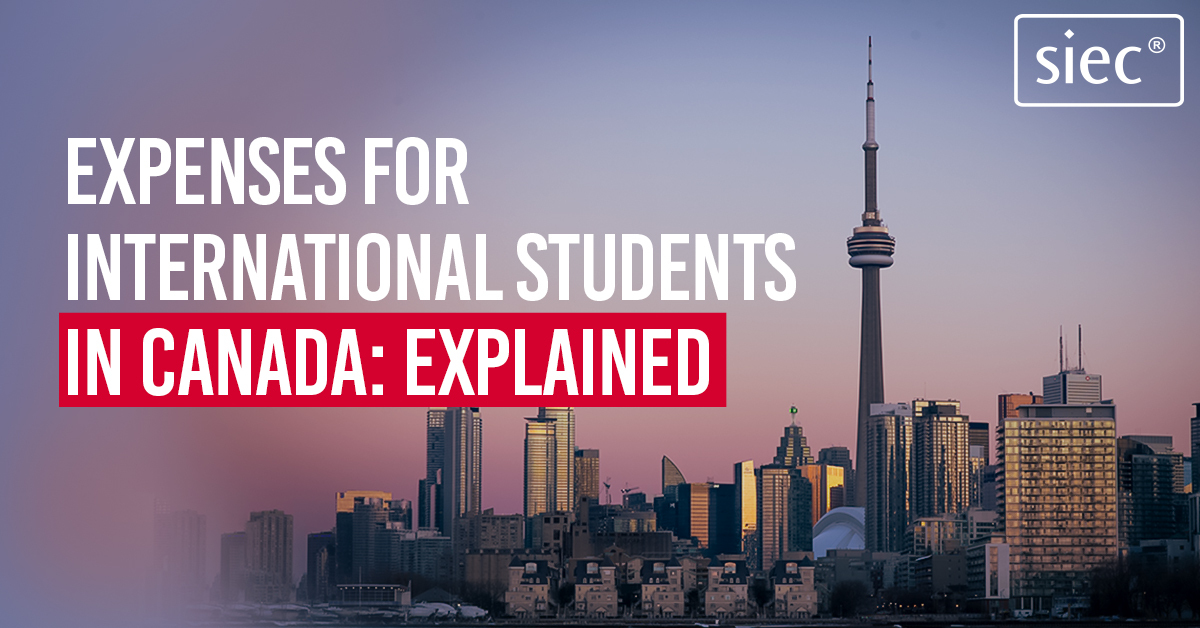 Expenses for International Students in Canada: Explained
Several students from all over the world are pursuing their studies in Canada, which has made the country rank among the top destinations for study globally. Whether it is the quality of education in Canada or the facilities offered to the students, a number of factors contribute to the choice. So if you are planning to pursue one of the 3 year bachelor degree programs in Canada or a program for masters in Canada, there are several aspects you should take into consideration.
We all know that studying abroad can be expensive. Nonetheless, a student must plan their expenses beforehand. Since most of these go unnoticed, we have explained all kinds of costs involved in a student's life when studying in Canada. Keep reading to get a proper understanding of the same.
Living Expenses in Canada
The living expenses of an international student in Canada are dependent on preferences and lifestyle. This is why these can vary from 15,000 CAD to 20,000 CAD. Further, it also differs on the basis of the region or province across the country. Additionally, the tuition fees are also different for every course, degree, and university. Nonetheless, we have provided overall estimations for various kinds of expenses, such as accommodation, internet, transportation, and food. This will provide you with an overall idea.
Accommodation Costs in Canada
The cost of accommodation depends on the kind you opt for. In general, there are on-campus townhouses and dormitories, off-campus shared apartments, and apartment rentals. For unfurnished apartment rentals, the cost can vary from 300 CAD to 500 CAD. Further, shared apartments can cost anywhere between 400 CAD and 800 CAD. Finally, townhouses and dormitories are the least expensive of all, with prices ranging between 250 CAD and 650 CAD.
Internet Expenses
Internet being one of the basic requirements for students, the expenses are crucial to be considered. Typically, the charges for the same per month can range between 30 CAD and 50 CAD. It is entirely dependent on the usage. Also, you may be video or voice calling your friends and family back home using applications like WhatsApp and Skype, which will further increase your monthly usage.
Travel Expenses in Canada
The safest and most economical choice for students to travel is via public transport. Not only will this help cut off monthly expenses but will also be efficient. Further, based on your residence, you can consider walking or cycling to the university campus.
Canada has a variety of modes of public transportation, like light-rail trains, subways, trains, and buses. You can further avail of discounts that only students are eligible for. Overall, if you are using the subway, a monthly pass will cost you between 65 CAD and 99 CAD, and traveling by bus will be between 100 CAD and 150 CAD.
Taxis are expensive in Canada and will cost you from 40 CAD to 50 CAD for just a kilometer.
Food Expenses in Canada
When you study in Canada, the major expense you must take into account other than accommodation and tuition fees is that of food. The monthly average expense for food can range between 200 CAD and 300 CAD, based on your diet. Additionally, if you eat outside in restaurants during weekends, your food expenses may become 500 CAD monthly.
Living Expenses in Canada Based on Cities
The second-largest nation in the world, Canada comprises 10 provinces. The living expenses across cities in each of these differ for international students. In general, the following are the estimated living costs for a month in some of the major metropolitan cities:
Quebec: 17,000 CAD
Ottawa: 15,000 CAD
Vancouver: 17,000 CAD
Montreal: 15,000 CAD
Toronto: 22,000 CAD
The average living expense for two months in Toronto is equivalent to that of three months in Ottawa. So while researching the best colleges in Canada, keep in mind their living costs as well.
How to Manage Expenses?
As a bonus tip, we have stated some of the best ways you can manage your expenses as an international student in Canada.
Live in a shared space, whether it is a dormitory or an off-campus shared apartment. Sharing accommodation will cost you less.
Eat outside as less as possible. Try cooking your own food.
Canada allows international students to work a maximum of 20 hours per week. If you are eligible for the same, take a part-time job to take care of your additional expenses.
Write down all your expenses on a regular basis. If you cannot understand where you are spending unnecessarily, you will not be able to cut down on the costs as well.
The Final Verdict
Studying at one of the top universities in Canada can be rather expensive. However, if you carefully bear in mind the expenses associated with the same, you can cut down on unnecessary costs as well. In this blog, we shared the major expenses involved in the life of an international student in Canada. Nonetheless, they may differ based on your lifestyle and preferences.