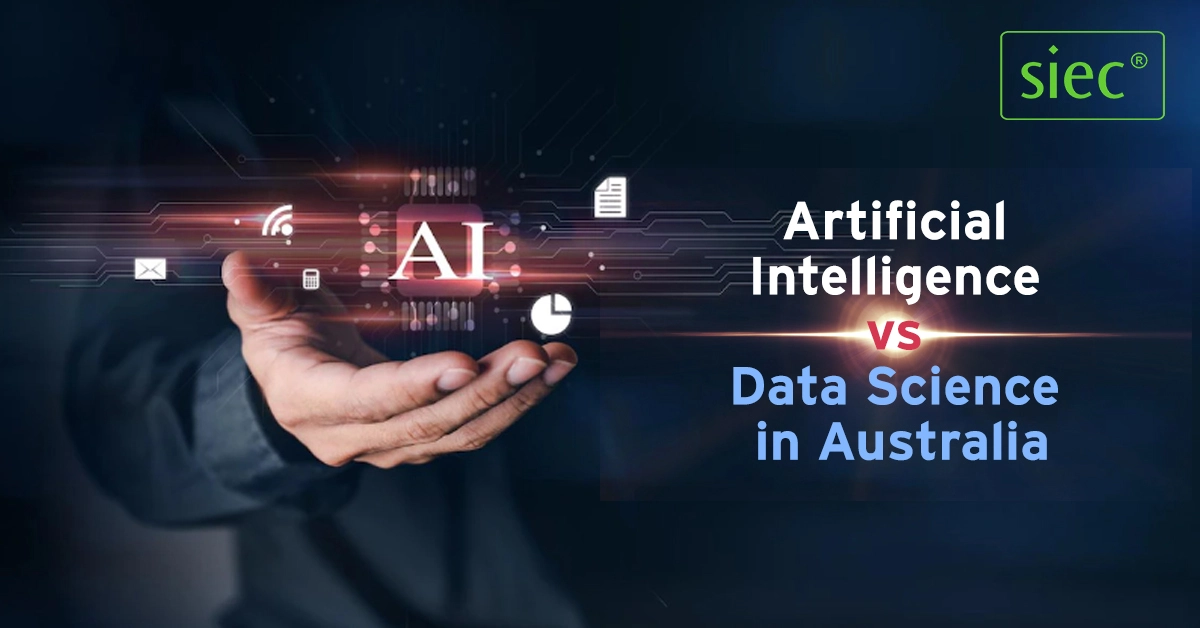 Artificial Intelligence vs Data Science in Australia
With marked excellence and top-quality education, Australia always stands among the top higher education destinations all across the globe. The country is home to the Group of 8 Universities, which are among the world's leading universities. Australia offers considerably more than what is generally anticipated. Due to its welcoming, relaxing environment, top-notch educational system, and high standard of life, Australia is a popular study destination for international students.
Artificial Intelligence
The Australian Computer Society accredits Artificial Intelligence courses in Australia, including all levels of study such as Diploma, Undergraduate, Post Graduation & PG Diploma. More than 36,000 Indian students apply yearly to Australia's several AI courses. The prerequisites for admission to the Diploma, Bachelor's, and MS programmes in artificial intelligence in Australia vary according to the university. Still, the standard requirement includes English Language Proficiency scores and CBSE results (High School) similar to the Australian Territory Admission Rank.
Job Aspects of AI in Australia
Australia has had significant growth in enrollment and employment over the past ten years, as a result, it is anticipated that hiring Australians with AI degrees will create an additional AUD 315 billion between 2020 and 2030. As a result, more and more international students each year choose to study AI in Australia.
Artificial Intelligence Workers' Salary in Australia
The average annual income for artificial intelligence is $105,699 in Australia, or $54.20 per hour. Most experienced workers earn up to $161,545 annually, while entry-level roles start at $93,500.
Why Study Artificial Intelligence in Australia?
The followings are the important factors to be kept in mind when about prospects after studying artificial intelligence in Australia:
By 2030, it is anticipated that the value of AI, encompassing digital technologies, will reach AUD 22.17 trillion, the highest value among other foreign nations.

There will be a demand for AI degree holders with over 160,000 job opportunities at this expanding economic pace.

International students may work more than 40 hours per week under the Temp (subclass 408) visa, which is advantageous for gaining professional job experience. Check Australia's choices for part-time employment.
Data Science
One of the most in-demand courses right now is data science. Every second of the day, an abundance of data is generated, making it crucial for businesses to understand it in order to make wise business decisions. Data Science has emerged as the degree of choice for graduates in this widespread profession. This makes the Australian educational system an unbeatable combination.
Job aspects of Data Science in Australia
Australia is not an exception to the global demand for data scientists. Data Scientists are currently the most sought-after specialists in the world due to the explosion of big data across industries. You will have the choice to work domestically or internationally once you finish this career.
Although there are many opportunities to make a difference at new startups, the biggest prospects right now are with large corporations and money industries such as finance.
Data scientists have the chance to shape the direction of their field's future. You will become a leader in this specialised industry by honing your skills and talent.
Data Scientist Salary in Australia
Most work in data scientist positions will be based in either Sydney or Melbourne, but there are also openings in other large cities.
The salaries listed below for Data Science in Australia originated from Payscale.
| | | |
| --- | --- | --- |
| City | Initial Salary | With Experience of 5 Years |
| Sydney | AU$52,000 - AU$9400,000 | AU$79,000 - AU$147,000 |
| Melbourne | AU$51,000 - AU$9400,000 | AU$77,000 - AU$143,000 |
| Canberra | AU$51,000 - AU$9400,000 | AU$78,000 - AU$148,000 |
| Brisbane | AU$49,000 - AU$9000,000 | AU$77,000 - AU$143,000 |
| Perth | AU$51,000 - AU$9400,000 | AU$81,000 - AU$155,000 |
| Hobart | AU$44,000 - AU$8100,000 | AU$68,000 - AU$127,000 |
| Darwin | AU$49,000 - AU$90,000 | AU$76,000 - AU$143,000 |
This was a brief about Data Science and Artificial Intelligence education in Australia, and more than ten leading universities offer master's degrees in both courses. If you are planning to build your career in these booming industries, don't wait for more. We at SIEC have been shaping students' careers for 27+ years, and our expert advisor will help you grab the best college and course as per your ambition and desire.