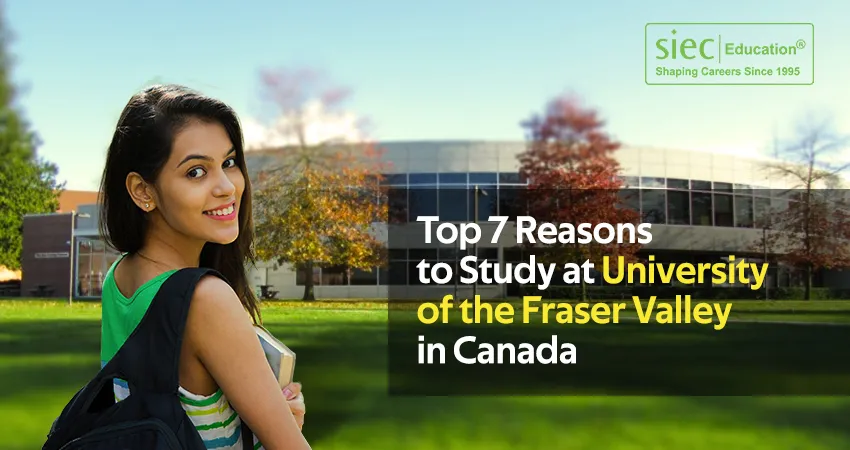 Top 7 Reasons to Study at University of the Fraser Valley in Canada
Located in the beautiful Fraser Valley, east of Vancouver, the University of the Fraser Valley (UFV) is a fully accredited public university in Canada.
Apply here for Sep'19 intake & start studying in Canada in 2019.
It is one of the best options for you right now for studying abroad.
Let's see why.
1. Affordable
Study programs having tuition fee as low as $645 per credit are available here. Most full-time university programs consist of 15 credits per semester.
2. Cooperative Education (Co-op)
This allows you to combine your studies with paid work experience in a field related to your career. Finish your studies, have real-world experience & skills. Use them in job market for a high salary.
Co-op work terms are four, eight, or 12 months in duration. Get placements nearby UFV campus or far away at Ontario. It will depend on your interest & field of study.
3. Financial Aid, Awards, Bursaries, and Scholarship for International students
Every year, millions of dollars in scholarships & awards are disbursed to UFV students.
4. Choose from more than 100 course programs
Master's degrees, Bachelor's degrees, majors, minors, and extended minor programs are available in over 30 subject areas; over a dozen Trades & Technology programs are also there.
5. A Full-fledged Career Centre
Get in touch with Career Coaches at UFV, receive help with your résumé & cover letter, get tips for starting your job search, or plan a mock interview.
6. Low Housing cost
Local housing cost is cheap if compared with those of Greater Vancouver. Homestays are even more economical for international students.
7. Small is beautiful
UFV is large enough to offer variety, yet it teaches in small classrooms allowing you to learn in a vibrant atmosphere filled with activities & fruitful interactions.
Popular courses
Business Administration — Bachelor's degree
Business Administration — Diploma
BA- Communications
Computer Information Systems — Bachelor's Degree
Culinary Arts — Certificate
Electrician — Certificate
Graphic and Digital Design — Bachelor of Fine Arts
Marketing and Sales — Certificate
Plumbing and Piping — Certificate
Teaching English as a Second Language — Certificate & lots more.
Want to study at University of the Fraser Valley in Canada? Register for our Canada Education Fair and meet with admission officers to apply on the spot!