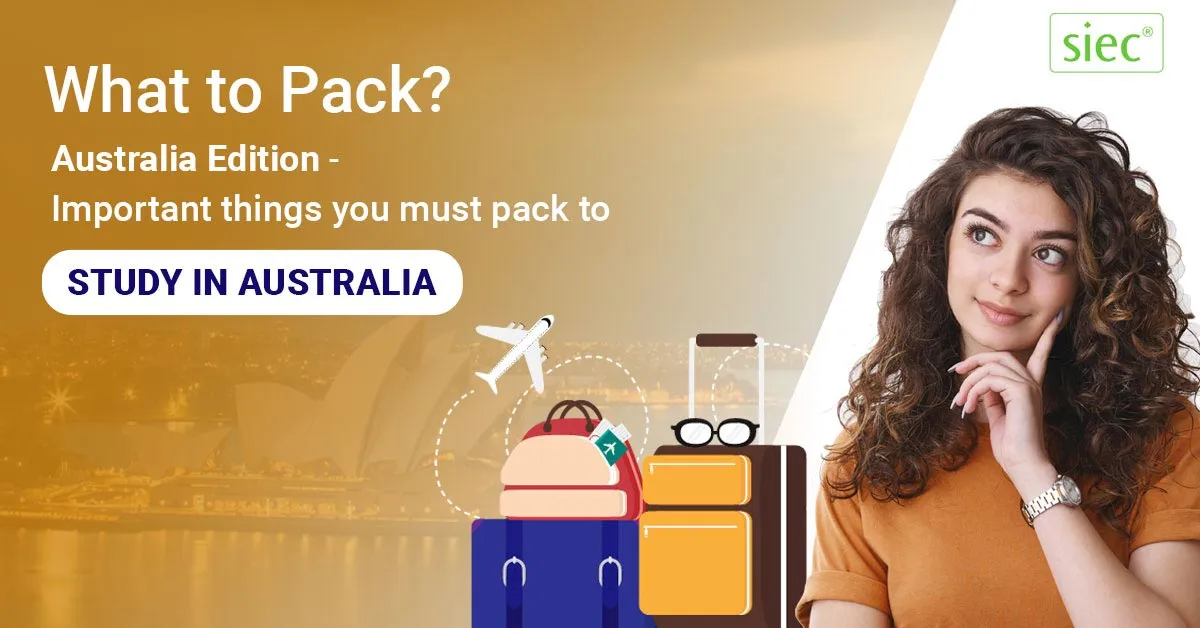 What to Pack? - Australia Edition | Important things you must pack to Study in Australia
Did you get admission to your dream university? And your visa has been approved! Let's get you packed up and set to begin your successful journey. So, do you understand that you can't bring everything with you? Are you Confused about what to bring to Australia and what not? And now, for a quick packing suggestion to prevent luggage issues while flying to Australia to study.
The greatest method to guarantee a comfortable flight when going to Australia to study is to pack wisely. It is pretty natural to get carried away when packing your bags for a lengthy stay in Australia because getting the chance to study abroad might be rather thrilling. We've provided a list of dos and don'ts for students travelling to Australia in this packing guide.
Information Check - Do Check the luggage details on your ticket
When your travel documents are in order, and your seat on the flight has been reserved, it's a good idea to start packing. However, checking the luggage information on your ticket reservation or the airline's website is best before packing your goods into the bag. Each airline has a limit on the combined weight of checked and hand luggage. Make sure you've read the instructions for visitors to Australia.
We strongly advise that you weigh your luggage at home to ensure it is under the airline's permitted weight limit. If not, the airline has the authority to charge you more for extra luggage or request that you leave some of your luggage behind.
Be Smart to Pack things in the right Format
Packing is important, but packing things smartly is wiser; there are a few things that a student must do beforehand, such as:
Preserving every document in digital form.
Making the necessary arrangements for the trip from home to the airport.
Students must be certain things are forbidden.
It might be a good idea to use a luggage tag.
Essentials Item List for International Students moving to Australia
It is always advised to create a checklist of all essential items so one doesn't miss anything. The following are a few things you should make sure are on your packing list before you leave for Australia:
Pack Weather-Appropriate Cloths
Australia usually has a mild to extremely hot temperature, though this varies due to the size of the region. Consider summer-appropriate clothing like tank tops, shorts, t-shirts, and skirts. You can always buy warm clothes there if the weather unexpectedly turns cold. You'll be able to conserve space in your luggage in addition to the fact that it will be significantly more economical.
Carry Essential Documents
Every stage of your travel will require a separate set of documents, so you must have all of them to avoid undesirable situations and successfully land in Australia after completing all the essential landing procedures. If anything is lost, the candidates are encouraged to preserve digital and printed copies of the documents. The essential travel documents include passports, credit cards, student visas, airline tickets, student identification cards, proof of college enrollment, proof of housing, enrollment confirmation letters, previous transcripts, proof of health insurance, etc.
Make sure you Carry Cards & Cash.
As you land in Canada, the first thing you will be doing is to open a bank account in Australia, but it is important to carry your debit card from your home back and also make sure you inform the bank in your home country about your travel plan in advance. It would be preferable if you carried around about $700 in cash to cover most of students' expenses. Never forget to change your foreign currencies into Australian dollars.
Medicines
Its always advised to carry some basic medicines along, if the student is under some specific medication, he/she must carry the stock along with the prescription, as it might be difficult to attain immediate stocks.
Electronic Devices
Electronic devices are now of the greatest importance in this digital age. Universal adapters, cell phones, headphones, tablets, chargers, computers, USB cables, pen drives, and other items are among the necessities to bring. To prevent carrying any malfunctioning equipment, make sure that all of the electronics are in good working order.
Toiletries
A hairbrush, comb, toothbrush, perfume, makeup, additional pairs of glasses, tissues, razors, masks, hand sanitisers, toothpaste, and face washes are some of the essentials.
Important Tips Before Departure
Confirm the passport's expiration date.
Re-Check your Checklist
Talk to the university.
These were some of the essential things and tips for international students who are travelling to Australia. If you are planning to study in Australia, Canada, the USA, UK, Europe, Germany or any other Asian country and need expert advice for the application or visa process, then contact our SIEC experts for end-to-end guidance.