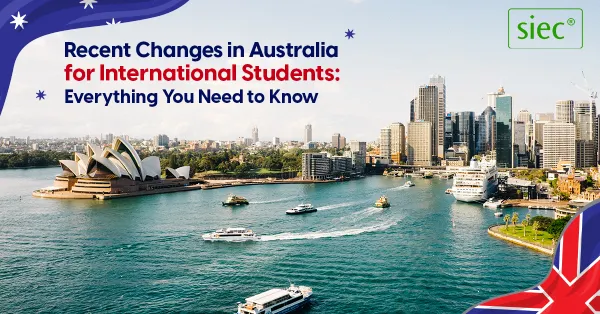 Recent Changes in Australia for International Students
Wondering about working in Australia after completing your studies? Think no more. In this blog, we are going to share the news that is going to surprise you. Can you guess what it is about? Well, Australia has changed the rules regarding post-study work rights and it is all in the favor of international students. Continue reading to know more about these advantages.
Benefits Offered by Australia
The Australian Education Ministry has stated that post-study work rights for selective bachelor's degree programs have been raised to four years from two years. Moreover, for students who are pursuing master's programs, it is now five years instead of three. And lastly, for select Doctorate programs, it has been increased to six years from four years. This means that students pursuing their studies in Australia can now work for two more years than stated earlier.
Apart from this, students get other benefits based on their employment terms. A permanent part-time employee gets the same benefits as a full-time employee. This comprises two weeks of partner leave, 18 weeks of paid maternity leave, long service leave, 10 days of carer's or sick leave, and four weeks of leave in a year.
However, in the case of a casual part-time job, the worker is eligible to obtain overtime pay in case they work over the maximum number of hours stated for a week or a day. This overtime amount varies from one industry to another.

Increased Part-Time Working Hours
At the beginning of this year, the Australian government removed restrictions on the number of hours global students were allowed to work. This is applicable to students pursuing degrees in all kinds of sectors. Nonetheless, this is applicable only till June 2023 since Home Affairs Minister Clare O'Neil has recently stated that the caps will be reintroduced. This is majorly due to the concern regarding the work-life balance students are able to maintain.
Higher Part-Time Work Wages
Australia is known for its fairly high wages and there is no exception for international students as well. As a matter of fact, the Australian Fair Work Commission reviews the country's minimum wage every year. Based on this year's review in July, the minimum hourly wage has been set at 21.38 Australian dollars. Jobs that need further skills may pay even more, from 50 Australian dollars to 80 Australian dollars per hour.
Regional Migration Advantages
The Australian Regional Migration program offers a number of advantages to people looking for permanent residence in the country with two more visas available under this program. Through 491 Visa and 494 Visa, you become eligible to enroll in Medicare, as opposed to several other temporary visas that do not allow the same. People applying for 494 or 491 also get full study and work rights.
For a post-study work visa, graduates who have studied in one of the regional universities in Australia are eligible for applying for a second Temporary Graduate (subclass 485). This is greatly beneficial for the students who seek to extend their stay in the country.
Finally, one can claim an additional 5 points for Expression of Interest by finishing an eligible qualification at a university in regional Australia. This is best for being eligible for skilled migration.
Higher Employment Rate
According to Jason Clare, Australian Minister for Education, merely 16% of the global students stay in the country post-study. He further explains that this means they can continue to stay for a longer period and utilize their acquired skills to aid fill some chronic skill shortages they currently have.
Based on Clare's statement, it is clear that the nation presently has a high employment rate. In fact, the revised period for post-study work allowance is applicable for select degrees. This means that Australia is looking for employees in certain industries.
Although it isn't yet clear which programs will get these benefits, it is known that this is applicable to degrees associated with workforce shortages. We expect that the country will announce these courses by mid-October.
Apart from this, the Australian government recently announced that it will invest 36.1million Australian dollars into visa processing so as to aid 500 surge staff in the upcoming nine months. The idea behind this investment is to decrease the total time spent by students on visa processing and decision-making. Truth be told, delays in visa has led several students to not proceed further to studying in Australia.
Significant Rise in Salaries Post-Covid
Even though the COVID pandemic impacted economies all over the world and involved people losing their jobs, Australia managed to come out of it beautifully. As a matter of fact, the starting salaries in the country post-covid are more than what they were before the pandemic. This is a clear indication that Australia has a strong economy and is highly capable of managing extreme situations. Thus, working in the country post completing study in Australia is a great choice.
The Final Verdict
Australia international students have increased over the years, considering the number of benefits the country offers. And to the list, post-study work benefits have been added. While the students were earlier allowed to work for two, three, and four years after completing their bachelor's degree, master's degree, and Ph.D. respectively, the limit has been increased by two years. Nonetheless, it isn't yet clear that students from which courses will be allowed to work for a couple more years.
One thing crystal is that Australia is seeking employees to get over its workforce shortage in certain industries. And considering the higher employment rate, increased part-time work hours, increased wages, and higher starting salaries post-COVID, international students are going to benefit incredibly.