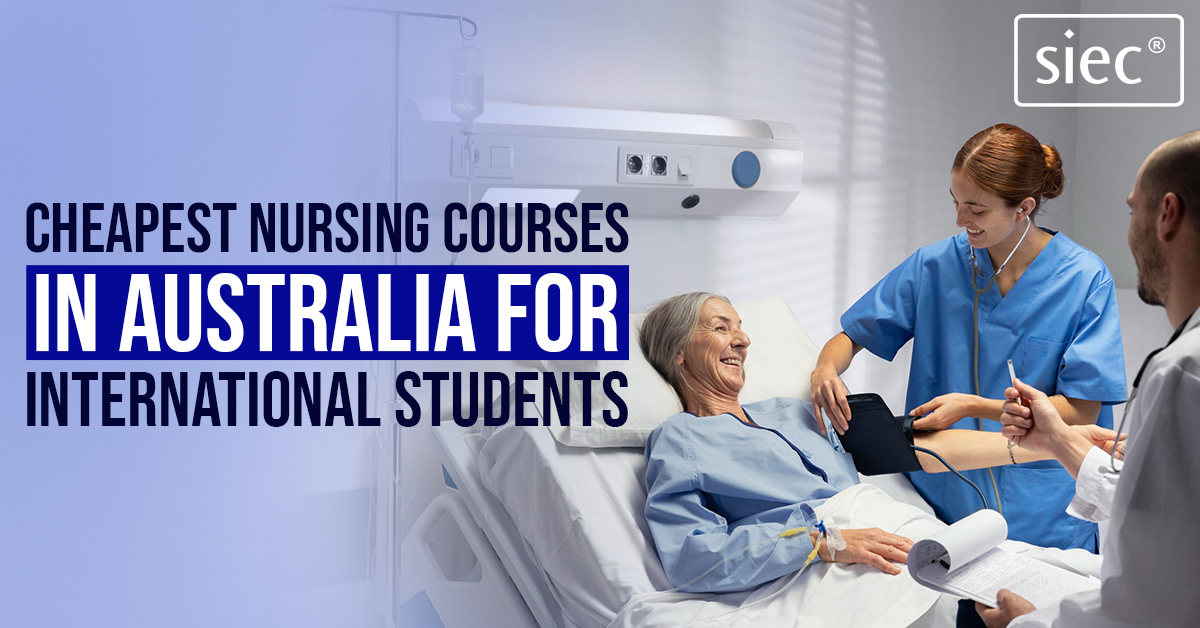 Posted By: 30 January 2023
Cheapest Nursing Courses in Australia for International Students
Australia is renowned for its world-class education, which makes several students from all over the globe pursue their studies here. In fact, Australian nursing schools are highly reputed for their courses. So if you are interested in pursuing such a course in Australia, you have landed on the right page. In this blog, we will share with you some of the cheapest nursing courses in Australia for international students. Keep reading to know more.
Types of Nursing Courses
Before we step into the details of the cheapest nursing courses, let's get an understanding of the kinds of nursing courses that one can pursue in Australia. These are as follows:
Diploma Course: These courses have a duration of one year.
Graduate Certificate: Graduate certificate courses, like diploma courses, have one-year durations.
Bachelor's Degree: To obtain a bachelor of nursing in Australia, you will be required to opt for a two-year course.
Master's Degree: The master's degree courses in nursing have a duration of 12 to 18 months.
Ideally, the duration of the nursing course varies from 3 months to 4 years (full-time). This is based on the employment background and previous studies.
Cheapest Nursing Courses in Australia
Given below is a table for the cheapest universities in Australia offering nursing courses. The tuition fee for international students is also indicated here.
University/
College
Course
Name
Course Duration
Tuition Fees (in AUD)
Central Queensland University
Bachelor of Nursing
24 months
50,280
University of Sunshine Coast
Bachelor of Nursing
24 months
51,563
Flinders University
Graduate Certificate in Acute Care Nursing
12 months
30,400
Western Sydney University
Master of Nursing
18 months
41,340
Avondale College of Higher Education
Master of Nursing
18 months
34,608
James Cook University
Graduate Certificate of Nursing
12 months
13,000
James Cook University
Graduate Diploma in Nursing
12 months
26,000
James Cook University
Master of Nursing
18 months
39,000
Monash University
Master of Advance Nursing
12 months
33,000
University of Notre Dame
Bachelor of Nursing
3 Years
37,000
Edith Cowan University
Bachelor of Science (Nursing)
3 Years
36,650
Documents Required for Applying to Nursing Courses
In order to apply for a nursing course in Australia international students are required certain documents. While these vary from one university to another, the general ones are listed below. Thus, we recommend you keep them handy during university or college applications.
SOP (Statement of Purpose)
LORs (Letters of Recommendation)
English Language Proficiency Test scores, like IELTS or TOEFL
Updated Resume/CV
Visa
Passport
Passport Size Photographs
Official Academic Transcripts
Grade Cards
Career Opportunities
Post completion of their courses, nursing students begin as entry-level trainee nurses. Over time, they become senior head nursing professionals. As a matter of fact, nurses have a wide array of career prospects that extend beyond hospitals and traditional wards. The following are some of the nursing professions:
Operation theater nursing
Maternity nursing
Cancer nursing
Mental health nursing
Palliative care
Nurse practitioner
Specialist ear nursing
Aged care nursing
Eligibility Criteria to Study Nursing in Australia
In order to pursue a nursing course in Australia, students much fulfill the eligibility criteria. These differ from one program to another. Whether you opt for bachelor of nursing Melbourne or bachelor of nursing Sydney, you need to fulfill these criteria to study in the country.
Requirement for Diploma Courses
In order to pursue a diploma course in Australia, students must have a qualified 12th-grade exam from a recognized central or state education board. Further, they must sustain a GPA of 5.5 or 50% score at senior secondary levels. Finally, the students must also score a minimum of 98 in TOEFL, 7 in IELTS, or 65 in PTE.
Requirement for Bachelor Degree Courses
The eligibility criteria for bachelor's degree courses are the same as diploma course criteria.
Requirement for Master Degree Courses
Applicants are required to have finished 3 years of the graduate courses and must possess a Registered Nurse (RN) License. Further, CGPA or Cumulative Grade Point Average must be a minimum of 7.5, which is equivalent to a 60% score. Finally, they must take an English language proficiency test. The minimum requirement for PTE is 68, IELTS is 7, and TOEFL is 96.
The Bottom Line - Study Nursing in Australia
Studying nursing in Australia can be a game-changer for you, especially to due the wide career opportunities and high wages of nursing professionals. So if you are planning to study in Australia, you must consider pursuing one of the courses we mentioned in this article. Not only are they less expensive as compared to other similar courses but also they are highly valuable.