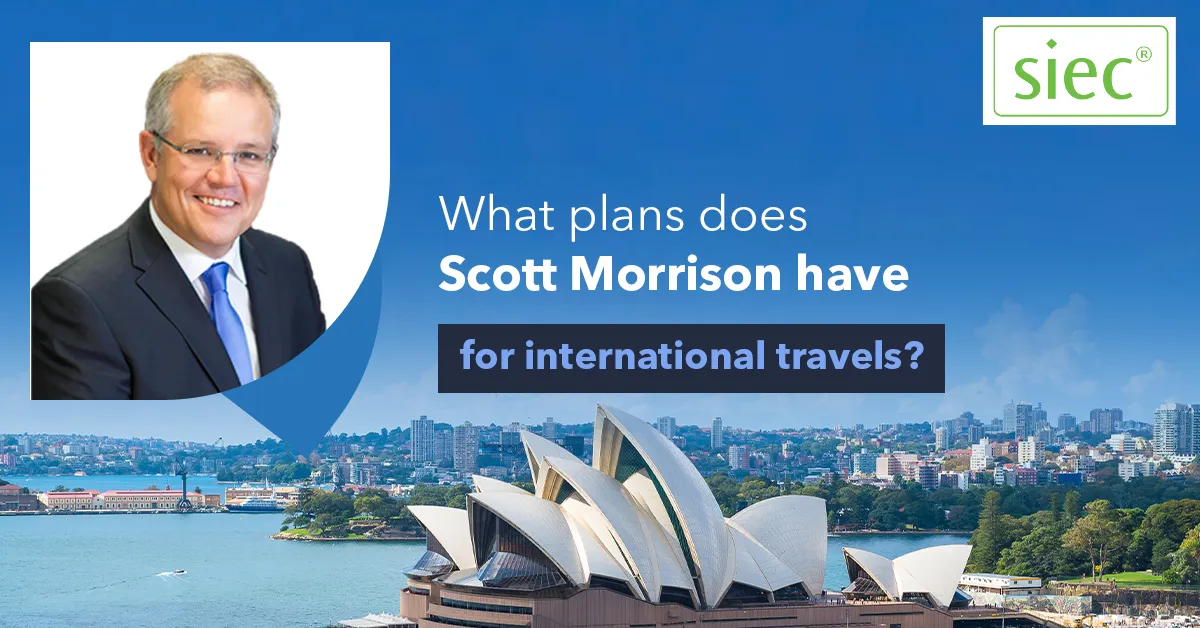 What plans does Scott Morrison have for international travels?
With Australia being so much in the news nowadays, the international student queries have risen up significantly. The country has been on lockdown for months now. The students and permanent residents, and even their own citizens, are looking up for a ray of hope. So, what plans does the Prime Minister have for everyone? This blog is all about the latest updates on the leader's agenda. Scroll on to know more.
As Sydney prepares to exit lockdown, Scott Morrison supports NSW plans to expedite international travel. On the eve of the state reopening after 106 days in lockdown, the government declares that hotel quarantine is "fast becoming redundant" and indicates that travel will resume ahead of schedule. The Prime Minister has supported plans to continue international travel as soon as NSW's home quarantine programme is completed.
In a Facebook Livestream on Sunday, Morrison revealed that he was in talks with NSW Premier Dominic Perrottet about expediting the start date of international travel for fully vaccinated people.
Morrison previously stated that states would reopen to international visitors in mid-November if their vaccination targets of 80% were met.
This was after Perrottet's earlier Sunday statement that he wanted to resume international travel "as soon as possible," implying that a home quarantine programme for fully vaccinated people could begin by the end of this month.
Morrison also stated that the country can't live as a hermit kingdom on the other side of the world. If the residents have been vaccinated, returning to the country rather than being quarantined in a hotel for weeks makes sense. He also stated that if NSW implements a home quarantine programme, the Commonwealth will look to expedite the opening of international borders into NSW sooner.
Stuart Ayres, deputy leader of the NSW Liberals, also declared that the current cap on international returnees agreed by the national cabinet during the Delta outbreak would be "significantly lifted" maximum by the end of this month or the start of the following month.
It would enable the state to expand the home quarantine programme, which is currently in pilot mode for approximately 35 international returnees and 50 Qantas staff per week.
Ayres on Sunday also stated that Sydney & NSW are a globally engaged city & state where lots of citizens still haven't been able to come back home. Hotel quarantine is rapidly becoming redundant, which is not sustainable into the future. He wants the police commissioner out of the tourism business, which means the country has to phase out of hotel quarantine. However, the home quarantine program would only be open for vaccinated people.
NSW recorded 477 cases of Covid-19 and six deaths on Sunday, ahead of the state's reopening on Monday after 106 days in lockdown, continuing a drop in cases since the outbreak's peak in August and September.
However, with the state set to exit lockdown on Monday after reaching the 70% double-vaccination mark for citizens over the age of 16, Perrottet requested people to treat everyone with respect & kindness."
This week, a trial in four regional areas will begin with up to 500 staff and customers from various clubs, aged-care facilities, and taxi companies participating. Dominello stated on Sunday that the federal government failed to provide the app with the necessary data until last week. Until the app is ready, residents will have to use the Medicare app or a paper version from Services Australia to verify their vaccination status.
With such a positive turn to Australia's lockdown, international students can expect a ray of hope to study in Australia soon.
Contact us today to get started with your applications.