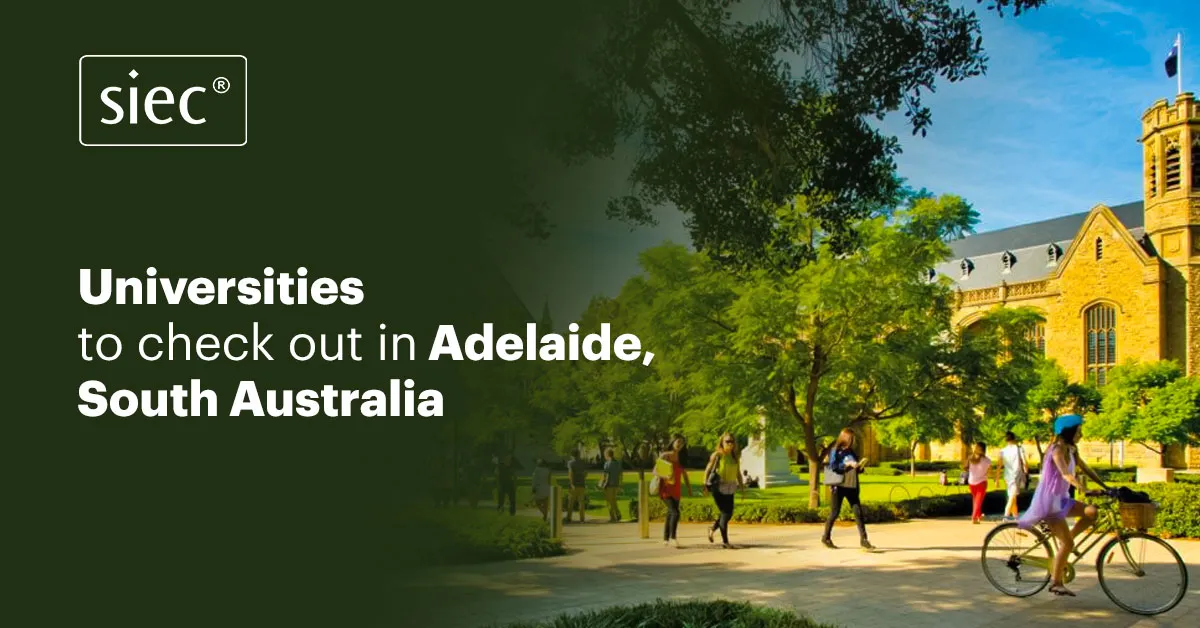 Universities to check out in Adelaide, South Australia
Study in South Australia - Adelaide
Adelaide - The city titled as the "3rd most liveable city in the world" affordability and easy accessibility are the crucial factors responsible for making Adeliade an ideal study destination for international students. The article encircles a piece of detailed information regarding education, accommodation, transportation and Universities in Adelaide.
Student Life in Adelaide
The city is home to nearly 70,000 students, which includes approximately 20,000 international students. Adelaide has been considered a "big country town," a title shared by other Australian cities such as Perth and Canberra. Wide streets, tree-lined boulevards, and vast stretches of recreational space describe the planned city, Adelaide.
Adelaide students place a high value on living close to the city centre, which provides easy access to facilities and nightlife. Living nearby brings nearly half of the Universities in Adelaide at walking distance for students.
Transportation and Connectivity in Adelaide
When it comes to transportation, Adelaide has a plethora of options. Every means of local transport is provided within the city, including free buses, trams, and trains. It also features an extensive transportation infrastructure that connects all areas of the city and suburbs.
The ideal way to save money is by spending on public transportation in Adelaide, however, is to use a student MetroCard is advisable.
Universities in Adelaide
Adelaide has multiple opportunities for international students. It is home to globally renowned educational institutes and universities. Some of the well-known universities that make it a popular study location for overseas students include:
University of Adelaide
Member of prestigious "Group of Eight" (Go8), University of Adelaide Business School is Australia's first University to offer degrees in Business. The University of Adelaide is constantly listed in the top 1% of all universities in the world. It is also regarded as a world-class research university.
University is measured by the most well-known international university ranking techniques — Times Higher Education ranks the University at 118th, QS World University Rankings places the University at 106th in the world, and Academic Ranking of World Universities (ARWU) ranks the University of Adelaide at 152nd.
Carnegie Mellon University
Carnegie Mellon University is recognised worldwide for its interdisciplinary environment. The University's current and former faculty and alumni are winning top honours in art, science, and technology, and the University draws award-winning talent.
Carnegie Mellon University is placed amongst the top 50 educational institutions across the globe. QS World University Ranking ranks the University's Engineering and Technology at 19th and Computer Science and Information Systems at 3rd best in the world.
Kathleen Lumley College
A dedicated postgraduate co-residential college located in North Adelaide, South Australia. The University is affiliated with the University of Adelaide, offering degrees in Masters, PhDs and Postdoctoral researches.
Torrens University
Torrens University is located in central Adelaide; the University has four campuses Adelaide, Sydney, Melbourne and Brisbane. Torrens University is ranked 12th amongst the other Australian Universities for students satisfactory rating.
The University offers undergraduate and postgraduate degrees in Management, Media and Communication, Design and Public Health.
Flinders University
Flinders University was established in 1966. The University has a vast campus spread over 12km and has a higher physical capacity than the University of Adelaide.
Flinders University is considered the No.1 University for postgraduate full-time employment and quality of educational experience.
University of South Australia
The University of South Australia is Adelaide's largest University, established in 1991 by the merger of non-university educational institutes. The University has six campuses, out of which four of the campuses are located in the city. City West, the largest campus, is near to the University of Adelaide. Mawson Lakes, another of its major campuses, is conveniently located km away from the CBD.
The University of South Australia 's Business school is accredited by the worlds leading organisations such as The Association to Advance Collegiate Schools of Business (AACSB) and EFMD.