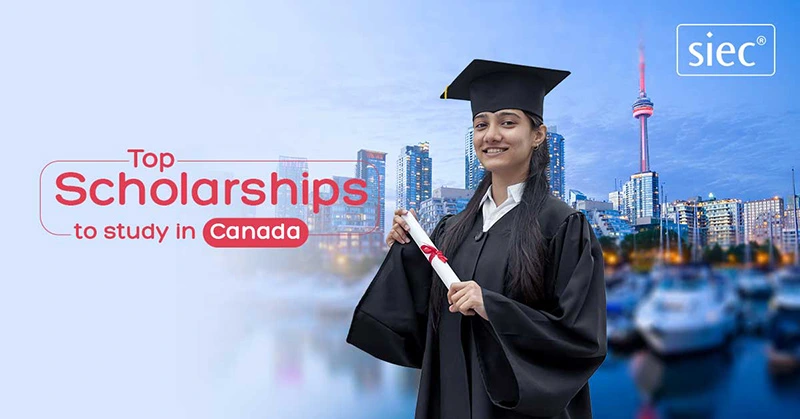 Top scholarships to study in Canada
Top scholarships to study in Canada
With one of the top-ranked education systems in the world, Canada is an ideal study abroad destination. Its globally renowned faculty and top-notch state-of-the-art infrastructure make it stand out in the crowd. Canadian education is well-known, and several programmes offer specialized degrees at a low cost. The country's multiculturalism makes it a safe and tranquil place to study, making it an excellent choice.
Why Study in Canada?
The United Nations has named Canada the "best and safest country to live" globally, citing its low crime rate and excellent quality of life and education.
Education in Canada is affordable when compared to other countries.
International students can work part-time during their education. They can work 20 hours per week during the semester and full time up to 40 hours per week during the sem-break.
The country has been rated among the top ten safest countries in the world by the Global Peace Index 2019.
18 Universities in Canada were ranked in the top 500 by QS World Universities in 2019.
Every year, over 350000 international students, including Indians, choose to study in Canada, according to Canada's immigration agency.
Scholarships in Canada
International students interested in applying for scholarships in Canada have a variety of choices. Students can apply for governmental, non-governmental, and university-oriented scholarships at all levels of study, from graduation to postgraduate and postdoctoral studies.
Below listed are some of the famous scholarships that the student can opt for.
Vanier Canada Graduate Scholarship
It was established to attract top-tier PhD students and position Canada as a global research and higher education leader. The scholarships are for doctoral degrees, MA/Ph.D., or MD/Ph.D. programmes.
Study Requirements
PhD programmes in health research, social sciences and/or humanities research, natural sciences and/or engineering research, or combined MA/Ph.D. or MD/Ph.D. programmes.
No of scholarships available: 167 scholarships every year.
Amount / Duration: $50,000 per year for three years.
Eligibility Criteria
The following conditions must be met for a student to be considered for the Vanier Canada Graduate Scholarship.
Citizenship: Citizens of Canada, permanent residents of Canada, and international students are eligible.
Nomination: You should be nominated by only ONE Canadian university, approved under the Vanier CGS quota like UofT, UCalgary, etc.
Area of Research:

Natural sciences and/or engineering research
Health research
Social sciences and humanities research
Level of Study: Should be pursuing a first Canadian doctoral degree (also include a joint UG/PG research program like MD/Ph.D., DVM/Ph.D., JD/Ph.D.).
Enrolment: Following full-time PhD studies and research, plan to take a course during the summer or academic years.
Academic Score: Must have received a first-class average in each of the last two years of full-time study or its equivalent.
Other Criteria: Applicants must not have previously received a doctoral-level grant or fellowship from NSERC, CIHR, or SSHRC.
Note: The Vanier Canada Graduate Scholarship is only available for the PhD portion of a combined degree.
University of Manitoba Graduate Fellowship
All students, regardless of citizenship, can apply for the University of Manitoba Graduate Fellowship (UMGF).
Eligibility Criteria
All students can apply regardless of their citizenship.
The students in all fields of graduate studies given their program are eligible for tri-council funding.
Scholarship amount
The scholarship is worth CAD 18,000 for a PhD. & CAD 14,000 for Masters for one year.
Application Deadline
The applications tentatively start from January every year.
Ontario Graduate Scholarship
The provincial government funds the Ontario Graduate Scholarship (OGS) programme to encourage Master's and Doctorate studies specialization. It is a merit-based award that is open to candidates from all academic areas, including international students. The scholarship's main points are as follows:
It is priced at $15,000 a year.
The minimum length of the scholarship can be two consecutive years.
To be considered for this scholarship, you must be an international student studying in Ontario with a student permit.
Assist on scholarship
The Assist-on Scholarship is open to all international students and is given to one international student who has demonstrated academic excellence and community involvement. This scholarship is presented by George Brown College, Canada.
Eligibility
The applicant must be admitted to a Degree/Diploma/Certificate program at the college.
Scholarship amount
The scholarship is worth CAD 1,000.
Application Deadline
The applications tentatively start from October to January.
Lester B. Pearson International Program
The Lester B. Pearson International Scholarship Program from the University of Toronto is designed to recognize international students who thrive academically, innovate, and are considered educational leaders. The scholarship will cover four years of education and books, incidentals, and complete residency support.
Learn more about studying in Canada and the scholarships from our SIEC Experts. Contact today for an expert consultation.
Eligibility
Should be an international student
Should be currently in the final year of secondary school or have graduated no earlier than June 2021.
Commencing studies at the University of Toronto in September 2022 (students already attending post-secondary studies will not be considered; students starting their studies in January 2022 at another post-secondary institution cannot be considered)