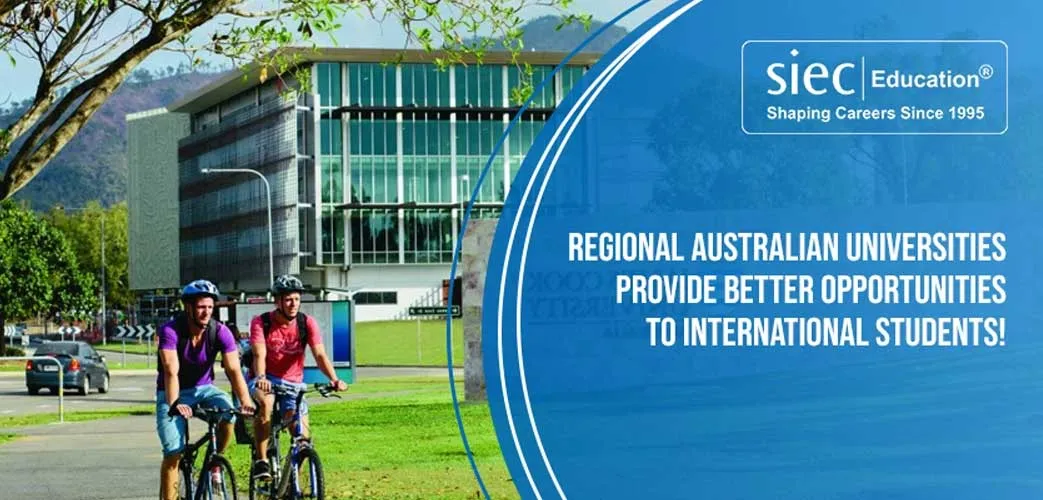 Regional Australian Universities provide BETTER OPPORTUNITIES to International students!
Extra Points towards Immigration & Higher Job Availability
Apply to regional universities, get better opportunities & live like a local.
You can choose to study in cities like Tasmania, Adelaide, Ballarat, Rockhampton, Townsville, Darwin, Perth etc. which are home to many prestigious universities.
Benefits of Studying in Regional Universities
Extra Points towards Immigration
If applying for Permanent Residency in Australia is on your mind, studying in a regional area gives you advantages. There are bright chances that you'll gain an extra 5 points towards PR.
Higher Job Availability
There are better job opportunities in regional cities. Hobart in Tasmania, for e.g., has an unemployment rate of 6.4% and it offers an average salary of A$ 54000/annum. Perth, on the other hand, is facing skill shortage due to the fall in the number of local apprentices. So, get a job and make life easier.
Higher Minimum Wages
Regional cities offer a HIGHER minimum wage for part-time jobs because of SKILL SHORTAGE. For e.g. a Sales rep in Adelaide may get $26 – $38/hour.
Low Cost of Living as Compared to Big Cities
A one-bedroom apartment costs an average of $2400/month in Sydney; it's about $1700 in Adelaide, $1500 in Darwin & Perth and $1200 in Hobart. Now you can compare!
Relaxing Lifestyle with City Facilities
The best part is- these places have the same facilities and entertainment hubs that you'll find in bigger cities; be it cinemas, sports venues, bars, restaurants or shopping centers. So, study hard & unwind harder!
Peaceful Academic Atmosphere
Regional universities have Cozy campuses with smaller classes and they offer a cool learning environment to International students.
You may apply to-
Charles Darwin University
University of Ballarat
Tasmania University
Federation University Australia
Central Queensland University
Southern Cross University
University of Adelaide
James Cook University
University of Southern Queensland
University of South Australia
University of New England
Do you Know?
One of the richest Indians & founder of Biocon Ltd, Kiran Mazumdar-Shaw is a proud alumnus of regional university, 'Federation University Australia', Ballarat. She has a Graduate Diploma in Brewing.
Want to know more about regional universities in Australia? Register for our Australia Education Fair and meet with Australian university admission officers to apply on the spot!